By Peter Doyle (Guest Contributor)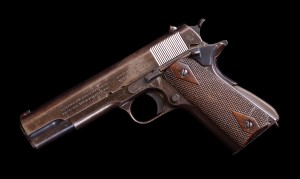 The Colt M1911 pistol – officially the Automatic Pistol, Calibre .45, M1911 – is one of the most famous weapons ever produced, a design classic that has been copied by many manufacturers the world over. Weighing some 2.44 lbs and measuring just 8.25 in long, the M1911 is both neat and robust. Semi-automatic the pistol is loaded from a seven round box magazine – which supplied the man-stopping .45 calibre bullets.
The M1911 grew out of a need for a weapon capable of delivering this stopping power for the US Army, which was engaged in battles against guerrillas in the Phillippines during the latter part of the nineteenth century. The US Government initiated weapons trials in 1906 with the specification that the pistol should be 'no less that .45 calibre', and that, ideally, it should be semi-automatic. The Colt bested five other pistols in the trials; and while 6,000 rounds were fired over the two days from a single weapon, it did not misfire or jam. This level of robustness would serve it well in the world conflict, and it entered US Service in 1911.
The pistol is also perhaps representative of the weapons the United States brought to the war theatre in 1917. Robust, reliable, no-nonsense, in the right hands, the Colt was capable of hard work. In the hands of Sergeant Alvin York, celebrated son of Tennessee and winner of the Congressional Medal of Honor while attacking a German machine gun position, it was deadly. Innovative in design, it was joined by the M1895 Winchester 'trench' shotgun, and efficient weapon in the confines of a trench or dug-out, but one that garnered complaint from the Germans, aimed at the United States through diplomatic channels as being 'inhumane' – in a war that produced chemical weaponry. Our colt is representative of the ever more efficient manner in which soldiers were killed in this most industrialized of all conflicts.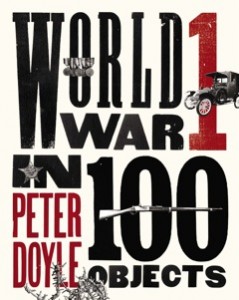 Peter Doyle is a military historian and geologist, specializing in battlefield terrain, and the author of World War I in 100 Objects (Plume Books.)  He has appeared on television as a contributor on television and in documentaries including WWI Tunnels of Death, The Big Dig, and Battlefield Detectives.  He is currently Visiting Professor at University College London.