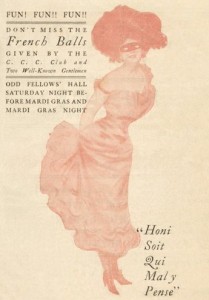 By Gary Krist (Guest Contributor)
Reformers aren't typically in the business of abetting prostitution. But when the reform-minded aldermen of New Orleans voted in 1897 to create a legally tolerated red-light district in the city, their intentions were impeccably upright. They recognized that any attempt to abolish prostitution entirely would be doomed to failure (at least in a worldly place like the Crescent City), and hoped instead to restrict the trade to a single neighborhood. Sidney Story, the alderman who wrote the relevant ordinance, designated an 18-block area located just behind the French Quarter and stipulated that prostitution would be illegal everywhere in the city except in this one neighborhood. The idea was to tuck vice and depravity away in a part of town where few "respectable" people would have to come into contact with it.
Guides to the Shopping Mall of Sin
So much for good intentions: The city's new creation—which eventually came to be known as "Storyville," much to the alderman's annoyance—proved to be anything but low-profile. In fact, Storyville was soon elevating the oldest profession to new heights of visibility in the city. Within a few years of its creation, the restricted district had become world-famous as a virtual shopping mall of sin, offering debaucheries for every taste. And this shopping mall came with its own directory—the so-called Blue Books, which became the essential guidebooks for anyone hoping to visit the infamous neighborhood.
Published in numerous editions from 1900 to 1915, the Blue Books typically contained an alphabetical listing of the district's better class of prostitutes (the "Tenderloin 400," as one edition playfully called them). Each practitioner was conveniently identified by "race"—w for white, c for colored, J for Jewish, and oct. for octoroon—while the names of brothel madams appeared in boldface or all caps. Some editions also included pictures and descriptions of the major brothels, along with advertisements for whisky, beer, cigars, "cures" for venereal disease, restaurants, drugstores, lawyers, and, once, even a piano tuner.
The Sporting Man's Savvy Local Friend
The Blue Books (which were sometimes red or green, since "blue" described the books' racy contents, not their physical color) were distributed at train stations, barbershops, bars, restaurants, and by newsboys on street corners. Aimed principally at male tourists, they styled themselves as the itinerant Sporting Man's savvy local friend: "Go through this little book," the preface to one edition stated, "and when you go on a 'lark' you will know the best places to spend time and money…secure from hold-ups, brace games, or other illegal practices usually worked on the unwise in Red Light districts."
The closing of the Storyville district in 1917 meant the end of open advertisement of prostitution in New Orleans. The last edition of the Blue Books was published in 1915. And although thousands of copies had been printed over the years, today the guides are very rare collector's items, sometimes fetching thousands of dollars when sold at auction—a small price to pay, apparently, for a Baedeker to a colorful world long-gone.
Sources:
Arceneaux, Pamela D. "Guidebooks to Sin: The Blue Books of Storyville." Louisiana History 28, Fall 1987.
Landau, Emily Epstein. Spectacular Wickedness: Sex, Race, and Memory in Storyville, New Orleans. Baton Rouge: Louisiana State University Press, 2013
Long, Alecia P. The Great Southern Babylon: Sex, Race, and Respectability in New Orleans, 1865-1920. Baton Rouge: Louisiana State University Press, 2004
Rose, Al. Storyville, New Orleans: Being an Authentic, Illustrated Account of the Notorious Red-Light District. University of Alabama Press, 1974; Paperback edition, 1979.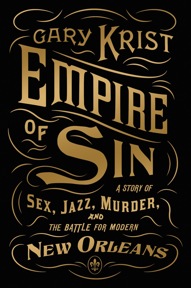 Gary Krist is the bestselling author of City of Scoundrels and The White Cascade, as well as several works of fiction. His new book, Empire of Sin: A Story of Sex, Jazz, Murder, and the Battle for Modern New Orleans, has just been published.