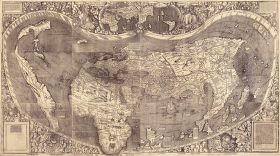 By Michael  Blanding (Guest Contributor)
Everyone knows that Columbus "discovered" the New World in the 15th century. So why is our continent named America instead of Columbia? It might have to do with a universal truth: sex sells better than God.
When Italian explorer Christopher Columbus first arrived in the Caribbean in 1492, he thought that he had landed on the Indie islands off the coast of Cathay, and it was only a matter of time before he'd find the gold mines and pleasure palaces of the Kublai Khan. As he island-hopped for the next few months, however, none of the native inhabitants of the island seemed to know what he was talking about. On subsequent voyages between 1493 and 1504, Columbus became more and more desperate, insisting not only that he had found Asia, but also more grandiosely claiming he'd discovered the mythical Garden of Eden. He even declared himself a harbinger of the Second Coming of Christ and the End of the World, circulating his ideas in a book called the Book of Prophecies.
Sex Sells: Vespucci's Pamphlet on America
At the same time Columbus' book was making the rounds of Europe, another very different pamphlet was also circulating. This one, written by Columbus' fellow Italian Amerigo Vespucci also claimed to have discovered a passage to Asia during voyages between 1497 and 1504. However, it went further to describe new lands in the Southern Hemisphere that had never been described before. Vespucci was particularly explicit about the native inhabitants of these lands—especially the women, whom he said "go naked and are exceedingly lustful," adding tantalizingly, "I have deemed it best (in the name of decency) to pass over in silence their many arts to gratify their insatiable lust." Of course, that only led readers to speculate further, causing the pamphlet to be in hot demand across Europe (even though today scholars debate whether Vespucci ever even made the voyages he claimed). Columbus' increasing delusions of grandeur, meanwhile, alienated him from his peers; he died obscure and impoverished in 1506.
Thus, it makes sense that when German mapmaker Martin Waldseemüller produced the first map to show a separate continent in the Western hemisphere in 1507, he chose to name it after the person given credit for discovering it, feminizing Vespucci's first name to call it "America." As more doubts began to emerge about Vespucci's story, Waldseemüller apparently thought better of the decision, taking the name off later maps, but by then it was too late. The name was adopted by other mapmakers including Gerard Mercator, who popularized it in his new Atlas—and the name America was forever cemented in history. So important was Waldseemüller's map that centuries later the only remaining copy would become the most expensive map ever sold, bought by the U.S. Government for $10 million in 2003. It is now on permanent display at the Library of Congress in Washington, D.C., as the "birth certificate of America."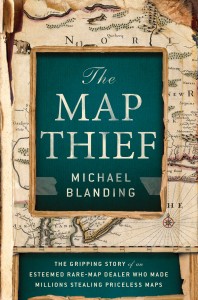 Michael Blanding is the author of The Map Thief: The Gripping Story of an Esteemed Rare-Map Dealer Who Made Millions Stealing Priceless Maps (Gotham, 2014).