By Elizabeth C. Goldsmith (Regular Contributor)
Lately I've been researching old travel narratives from the 17th and 18th centuries, and rereading Robinson Crusoe. Then the other day I was watching The Apartment, Billy Wilder's wonderful 1960 movie about corporate America. I was struck when Jack Lemmon says to Shirley MacLaine: "I used to live like Robinson Crusoe; I mean, shipwrecked among 8 million people. And then one day I saw a footprint in the sand, and there you were. "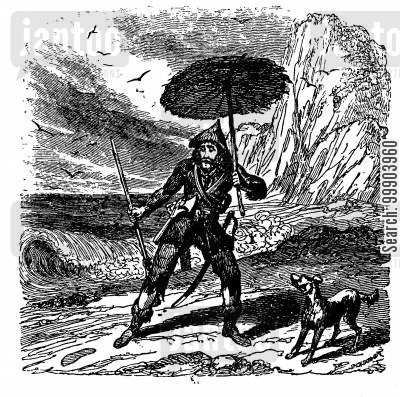 That got me thinking about that famous footprint-in-the-sand episode, when Crusoe first stumbles upon a sign of human habitation on his island. How many different ways has it been depicted and interpreted over the past 300 years? In the book, and in the illustration to the first editions, Crusoe is shocked, thrown off balance and appalled at the sight:
"I stood as one thunderstruck, or as if I had seen an apparition. … I came home not feeling, as we say, the ground I went on, but terrified to the last degree, looking behind me at every two or three steps …"
Imagining what type of person he might be about to encounter (cannibals?), Crusoe calms himself and tries to stave off nightmares by thinking that the footprint might in fact have been his own. But then, knowing that to be impossible, he decides that any fellow human is bound to at least resemble him in some way. When Friday finally appears in the flesh, Crusoe will quickly make him over into a loyal servant and shadow of himself.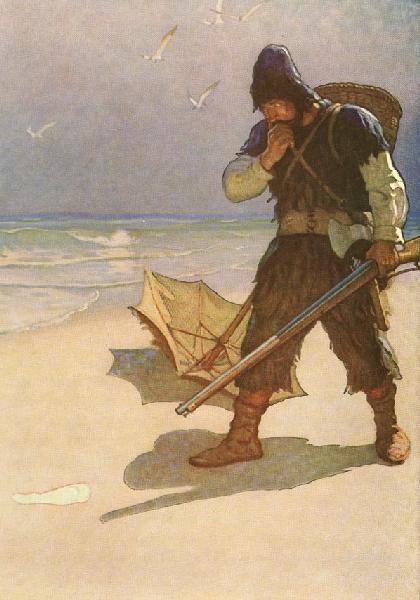 Contemplative Crusoe
Subsequent illustrations of the episode have reflected a change in the way different generations of readers have approached it – Crusoe is no longer depicted as terrified, only curious, sometimes on bended knee like an explorer or tracker, examining the evidence more closely before deciding what to do. And modern editions of the story as presented to young readers seem to emphasize the humanity of the moment. Crusoe is lonely, longing for a friend, and Friday will become one. We no longer see images of the scene where Crusoe places his foot on the neck of the kneeling Friday, signifying the Englishman's mastery over the black man whose footprint had frightened him.
Shipwrecked in Hawaii?
The script writers for the popular TV series Mad Men might have been playing around with Defoe's iconic moment in an episode where Don Draper takes a trip to Hawaii. He comes back with an idea for an ad showing footprints in the sand, next to the discarded clothing of a businessman. Are the footprints those of another person? Or has this modern traveler decided to go native? Don's clients reject the ad idea, saying the image is too ambiguous, and even potentially depressing, suggestive not of the liberation of the castaway, but of a suicide.