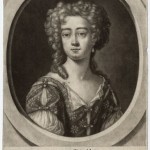 By Adrienne Mayor (Regular Contributor)
The English poet Anne Killigrew died of smallpox, at age 25 in 1685. The poet John Dryden compared her to Sappho when her poetry was published after her death. Well educated in Greek myth and history, Anne was encouraged by a circle of intellectual early feminist writers who urged women to rebel against male domination.
Anne's first poem, "Alexandreis," was an ode to the meeting of Alexander the Great and an Amazon queen in 330 BC, an incident reported by the historians of Alexander's campaigns. After a verse praising the young world conqueror (and two more declaring the modesty of her talents and calling on ancient Muses to aid her), the poem finally takes off with an arresting scene.
The sun rises in azure skies over the exotic Hyrcanian desert and suddenly illuminates a formidable army, a mirage of bright silver armor and scarlet plumes. Anne describes their splendid appearance: With crescent shields and panther-skin capes slung over their shoulders, bows and quivers "rattled by their sides" and each warrior carried a "well try'd Speare."
Only then do we discover that these impressive soldiers are not men but women! –"Warlike Virgins" from the mythic Amazon homeland. The host is led by Thalestris, a formidable ruler seeking glory like her ancestor Penthesilea, the Amazon who came to the aid of Troy in the Trojan War. Alexander's noble courage and magnificent triumphs fired Thalestris's "soul," filling her with longing to "see the Hero she so much admir'd." She dispatches a messenger to Alexander's camp.
Anne imagines their meeting, imbued with suspense. A "great cloud of Dust" and "Loud Neighings of Steeds and Trumpets" herald Alexander's arrival at the head of his own splendiferous army of "Burnisht Gold." The two troops, one silver and the other gold, come to a halt and face each other respectfully and expectantly. As they gaze in amazement at each other, a pregnant hush falls over the scene.
In the next verse, the "Heroick Queen" Thalestris advances boldly. "And thus she spake."
But here Anne's poem breaks off: A note explains: "This was the first Essay of this young Lady in Poetry, but finding the Task she had undertaken hard, she laid it by till Practice and more time should make her equal to so great a Work."
The unfinished poem is an eloquent evocation of male and female equality. Why did Anne never complete the poem? We might venture a guess. Despite her sophisticated education, spelling out Thalestris's scandalous mission might have been a challenge for a young lady in the court of James II. According to all the ancient historical accounts, the Amazon invited Alexander to have sex so that she could bear his child. Alexander agreed and devoted a fortnight to impregnating Thalestris.
Adrienne Mayor is a Research Scholar in Classics and History of Science, Stanford University and the author of  "The Poison King: Mithradates, Rome's Deadliest Enemy," a nonfiction finalist for the 2009 National Book Award, and The Amazons: Lives and Legends of Warrior Women across the Ancient World (2014).