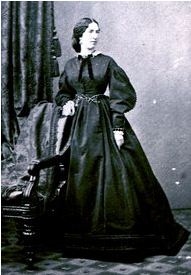 By Karen Abbott (Regular Contributor)
Oddly Conspicuous
It was an oddly conspicuous act for a girl purporting to be a spy: On May 23, 1862, Belle Boyd, newly 18 and possessed of a "little rebel heart," sprinted across the battlefield in Front Royal, Va., crinoline swinging, bullets plowing up the earth around her. She waved her white bonnet in grandiose loops, a signal for Confederate troops to advance, and caught the attention of staff officer Henry Kyd Douglas.
"It took only a few minutes for my horse to carry me," Douglas wrote, "to meet the romantic maiden whose tall, supple, and graceful figure struck me as soon as I came in sight of her." Speaking in gasps, Belle said she had vital intelligence for General Stonewall Jackson: the Union had only 1,000 men at Front Royal under Colonel John Kenly, but forces in the adjacent towns of Strasburg, Winchester and Harpers Ferry could easily unite and set a trap. If Jackson charged down quickly, he could catch them all. "I must hurry back," Belle said, and blew Douglas a kiss. "Goodbye. My love to all the dear boys."
The Confederate victory at Front Royal was a minor incident in Jackson's legendary Valley Campaign, waged throughout the spring of 1862 in the crucial territory between the Blue Ridge and Allegheny Mountains, but it brought immediate national fame to the teenager who thrust herself, literally, into the heat of battle. Although Jackson might have already possessed the intelligence Boyd risked her life to deliver, as some historians suggest, she became one of the most controversial and enigmatic figures of the war, a fervent secessionist whose efforts on behalf of the Confederacy evoked admiration and derision, in equal parts.

No one knew quite what to make of this "Siren of the Shenandoah," this "Belle Rebelle," this "Secesh Cleopatra," this "Pet of the Confederacy" — monikers whose hyper-femininity discounted the complexity of Boyd's career and her carefully constructed persona, both of which have been debated, to little consensus, since the publication of her memoir in 1865. Was Belle Boyd a heroine or a clever charlatan? A thrill-seeking opportunist or a brave Confederate patriot? The Civil War's most overrated spy, or, as Carl Sandburg wrote, someone who "could have been legally convicted, shot at sunrise, and heard of no more?" Such rhetorical musings, while contributing to her myth, also miss the point of why it has endured; Belle Boyd isn't remembered today for the efficacy of her spying, but for the way she went about it.
Origins
Belle Boyd was born in May 1844 in Bunker Hill, Va. (now West Virginia), the oldest of eight children and the daughter of a shopkeeper, Benjamin Boyd, who enlisted in the Second Virginia Infantry, part of the Stonewall Brigade. When Belle was 10 the family moved to nearby Martinsburg with their six slaves, one of whom, Eliza Corsey, became Belle's close companion and sometime accomplice in her espionage adventures. Every night, by candlelight, Belle defied the law and taught Eliza to read and write. "Slavery, like all other imperfect forms of society, will have its day," Belle wrote, "but the time for its final extinction in the Confederate States of America has not yet arrived."
At age 11, according to family lore, Belle protested her exclusion from an adult dinner party by riding her horse into the dining room and asking, "Well, my horse is old enough, isn't he?" The following year she attended Baltimore's Mount Washington Female College, where young Southern women "of gentle birth" were "trained to place proper reliance on their own powers." After her formal societal debut in Washington, she returned to the Shenandoah Valley in the spring of 1861, shortly after the fall of Fort Sumter.
Three months later, on July 4, Union forces under General Robert Patterson captured Martinsburg, ransacking local homes and business in the process. One particularly drunken and unruly group invaded the Boyd home and tried to raise a Yankee flag over its door. At this, Belle's mother, Mary Boyd, stepped forward. "Men," she said, "every member of my household will die before that flag shall be raised over us." When one soldier, 25-year-old Frederick Martin of the Seventh Pennsylvania Volunteers, physically threatened Mary, Belle took a Colt 1849 pocket pistol and shot him dead. She was cleared of all wrongdoing but found herself consumed by "thoughts and plans of vengeance." This served to open the door to her becoming an infamous Confederate courier and spy.
---
Interested in learning more about Belle Boyd and the female spies of the Civil War?
Subscribe to "Secrets & Spies" —
Abbott and W&M's Books We Love Newsletter.