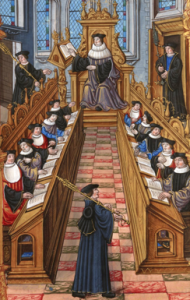 Last week, we reminisced about historical summer travel. This week, we turn our sights to the beginning of fall (otherwise known as back-to-school season).  As you start thinking about restocking your wardrobe for cooler temperatures and scholastic spaces, let us take you into the archives to consider:
How did students dress during the 12th century?
The Medieval University
While universities existed earlier than the 12th century, this period saw a rise in their popularity and social importance. The University of Bologna, University of Paris, and Oxford University became three of the earliest preeminent establishments, providing physical institutions for their students as well as formalized seminars (1). Aided by the common tongue of Latin — in which all courses were taught, regardless of location — scholars could exchange ideas more broadly in dialogue and print (1). At this time, only men were admitted.
Practical Matters: Academic Regalia
Originating out of the Church, the early University carried with it similar visual markers — and academic dress was one of them. Students and professors alike wore on a daily basis the gowns of clerics (most had, after all, taken some kind of orders, made some kind of vow, or been tonsured) (2). But regalia also served practical purposes, as meetings took place in

cold halls and stone buildings. The lengths of gowns and volume of their sleeves allowed the wearer to preserve heat, add under layers, or tuck cold hands within. Meanwhile, academics also favored adding caps and hoods that could be lifted to cover the tonsured head.
Sartorial Developments: Rank & Specialty
The assignment of hood and sleeve designs (to designate rank) and regalia colors (to designate specialty) began later in the century, with universities such as Coimbra, Oxford, and Cambridge providing strict dress codes that made academic bodies readable. However, these prescriptions varied among the universities and did not become regularized across academic circles until the 19th century (2).
Regalia in the modern university is worn only for celebrations and key events, and academic historians are still working to develop a vocabulary and terminology to maintain formal dress codes.
Resources:
(1) "Medieval Education and the Rise of Universities," Introduction to Medieval Philosophy and Modern Science 2008.
(2) Eugene Sullivan, ""Historical Overview of the Academic Costume Code," American Council of Education 1997.