By Gillian Bagwell (Guest Contributor)
Discovering Past Deposits
As I began to write my forthcoming novel  Venus in Winter, I found an article about the practices common in the sixteenth and seventeenth centuries of placing a shoe within a wall or of concealing other collections of items as "witch deposits" that intended to deflect malevolent spirits or witches' curses. Witch deposits might include "lucky" items such as family heirlooms or objects associated with someone considered spiritually powerful. Another purpose for witch deposits may have been the desire of the householders to leave their mark after they were dead and gone.
Soon I stumbled across another article, this one about the discovery of a child's leather boot from the early years of the nineteenth century in a chimney in a house in Bedforshire, which was believed to have contained a witch deposit. And then I read about a seventeenth-century witch bottle found buried in Greenwich— a clay bottle, still sealed, which imaging technology revealed to contain human hair and fingernails, pins and nails, and the residue from urine.
Material Becomes Inspiration
The confluence of these ideas gave me exactly what I needed for my prologue. Bess summons her master builder to enclose within the walls of Hardwick Hall a collection of items with great meaning to her: one of splendid pair of shoes she receives as she prepares to leave home at the age of twelve, the first step on her long path to enormous wealth and power, and mementoes from husbands, children, and friends no longer alive as she thinks back on her life. When I learned that a child's book had just been discovered within the walls of Hardwick Hall, I felt as if Bess was guiding me on the right track, and I included the book among the items in her witch deposit.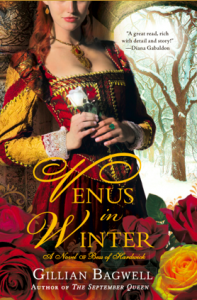 Gillian Bagwell's novel Venus in Winter will be released on July 2. To find links to Gillian's posts on other subjects related to the book, please follow her on Twitter, @GillianBagwell and on Facebook, https://www.facebook.com/gillianbagwell, or visit her website, http://www.gillianbagwell.com.