By Karen Essex (Guest Contributor)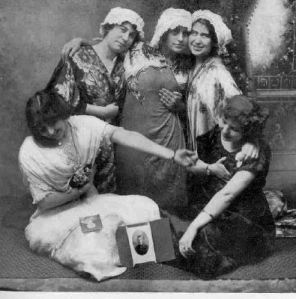 When answering questions about my novel, Dracula in Love, I am inevitably asked about the sequences that readers find the most chilling and frightening – the scenes in the Victorian insane asylum. Surely those shocking scenarios, like the fantasy scenes of vampirism, are products of the author's perverse imagination? Ironically, the answer is no; the asylum sequences are based on painstaking research. Truth, as it turns out, is always is stranger than fiction.
Dracula in Love retells Bram Stoker's original story from the perspective of the vampire's muse, Mina Harker, and in the process, turns the story on its ear, freeing Mina from her role as "victim," and putting her at the center of her own story. A good deal of Stoker's book takes place in an asylum. I wanted to utilize that Gothic setting in my book, but I also wanted to paint the asylum as it actually would have been at the time – full of women incarcerated for having what we today would consider normal sexual and other desires.
In the course of my research, I quickly discovered that women in the 1890s had more to fear from their own culture than from vampires. I read the psychiatric journals of the period, which prescribed bizarre treatments for ladies who were "hysterical," which usually turned out to mean that they were "excitable in the presence of men." In many instances, the desire to read all day or engage in intellectual studies, were also regarded as symptoms of mental illness in the female. Young women were committed to asylums for doing cartwheels in mixed company, for desiring sex with someone other than one's husband, or for staring seductively at a man. Most behavior that showed spunk, spirit, or sexual need, was pathologized.
All sorts of harrowing and torturous cures were developed to "settle" these women – restraints, forced housework (to help them remember their true natures), repeated plunges in ice water, and force-feeding, to name a few. As mental illness in females was thought to originate in the womb, doctors also were obsessed with menstrual cycles, figuring that if a patient's cycle could be regulated to a strict 28-30 day cycle, the "illness" of wanting to have sex or read books all day, would disappear. Not coincidentally, an irregular cycle was also considered a sign of mental illness and required treatment.
Curious as to whether these "cures" were actually implemented, I visited the archives of Victorian mental hospitals and read physicians' reports from the late 1800s, often in the doctors' own handwriting. Reading of young women committed for losing interest in housework, for lying about sexual encounters, or in one case, of a fifteen year old girl diagnosed with hysteria because she refused to stick her tongue out for the doctor's tongue depressor, was heartbreaking.
Worse yet were the treatments, which often involved restraints to "pacify" the women. Women's "fluttering, nervous hands" were thought to be a sign of hysteria, and the proscribed treatment was confinement – cuffs, muffs, straps, and strait jackets. Psychiatrists figured that if they could only calm the woman's hands long enough, the patient would be soothed, hence, cured. More often than not, after prolonged periods of restraint, women's spirits were entirely broken, at which point, they were allowed to return home. One of the most amusing anecdotes I ran across was the euphemism of "camisole" for the strait jacket because wearing it soothed a lady's nerves in the same way that putting on a lovely garment might.
Think about that next time you slip into a bustier!
Though the Victorian era had its charms and pleasures – and I do explore those as well in Dracula in Love – it was a dangerous time to be a woman. If I were living in that era, I would surely have been committed. And I'm guessing that if you are reading this, you might have been my cellmate.
 Karen Essex is the best-selling author of Dracula in Love, Leonardo's Swans, Stealing Athena, and two acclaimed biographical novels, Kleopatra and Pharaoh. She lives and works in London and Los Angeles. To learn more about Karen's work, please visit her website: www.karenessex.com.
This post first appeared at Wonders & Marvels on 23 September 2011.