By Stephanie Cowell (Regular Contributor)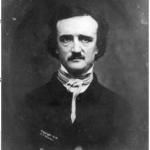 He died in poverty and was found in clothes not his own. He was only forty years old. Two years before, he had lost his wife/cousin whom he had married when she was thirteen. 164 years after his death, we are still searching for him.
Discovering the Man
In 2013, New York City's Morgan Library featured an exhibition devoted to Poe's work. It includes a piece of his corroded coffin, old newspapers with his stories in such tiny print one wonders anyone could see in those days (how did they set type so small?). His writing is hardly bigger, written on small pieces of paper glued together, and, in one case, on a scroll. There are only a few photographs and drawings. He made a living as a journalist. People loved the macabre then as today, and he supplied stories. His was a great intellectual mind and he died too soon. One wonders that his work survived above all the other journalists turning out poems and stories for the many newspapers in the dirty, crowded streets of New York in the 1830s and 1840s.
I read Annabel Lee written in his handwriting. It was supremely moving.
Ghost Hunting
But why should I not search for him? He lived four blocks from me on a street renamed for him; there was also a café called Edgar's where I would drink coffee with friends (this café is unfortunately closed.) Of course his house there is gone, swept away a long time ago, perhaps before they began to turn New York's Upper West Side from farmland to middle-class housing.
Then on a misty October evening (it was truly!) I was invited to attend a Poe ghost walk, given by the Ghosts of New York Walking Tours in conjunction with my friend the novelist Lynn Cullen, whose novel Mrs. Poe appropriately debuted in October. A small group of us gathered in front of 116 Waverly Place in the heart of Greenwich Village. In 1845, Poe walked up those steep steps to a literary gathering to first read his poem The Raven. I looked at the steps and then down the street over the cars to the bright lights of a coffee shop. How New York has changed! The new owner of the old house says she has sometimes heard footsteps on the wood floor above her. But there is no one there.
After learning about the house, we walked through Washington Square Park with the street lamps glimmering through the trees. The area has been a graveyard, the guide told us, and the bones of twenty thousand people lay beneath our feet. That gave me pause for thought. It was already a public park when Poe lived nearby, but the fountain which was possessed by guitar-playing hippies in the 1960s and the famous Arch were not yet created.
As she explained all this, a brooding man in his thirties with strange genius in his eyes seemed to walk under the trees and disappear. But then, all my friends know that I feel ghosts.
______________________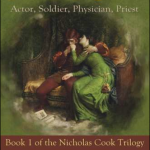 Historical novelist Stephanie Cowell is the author of Nicholas Cooke, The Physician of London, The Players: a novel of the young Shakespeare, Marrying Mozart and Claude & Camille: a novel of Monet. She is the recipient of the American Book Award. Her work has been translated into nine languages. Stephanie's new novel on the love story of Elizabeth Barrett and Robert Browning will be published in 2014. Her website is http://www.stephaniecowell.com.
This post first appeared at Wonders & Marvels on 29 October 2013.