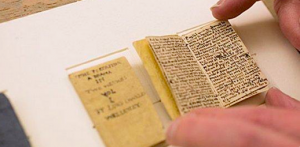 How quickly is July flying by? Here we are, another week ending and another rich collection tumbling out of our Cabinet of Curiosities. Among our latest findings, we even discovered some personal connections…
It's amazing how the personal quirks of long-gone authors can enliven them for us. When Bibliophilia shared these archival images of 13 year old Charlotte Brontë's tiny journals (containing adventure stories), it happened to us yet again.
This week in history, Charles II of England chartered the Royal Society — a group dedicated to natural philosophy and scientific advancement. (Want to learn more about them? Our editor-in-chief Holly Tucker provided an in-depth look at the group in her book Blood Work).
In a conversation made possible in part by the Royal Society, Carl Zimmer reminded us about the science of blood types and the historical explorations (successes and failures) that led to now-common transfusions.
Invested in archives? (We are – they're the spaces that make possible the work of our Regular and Guest Contributors!) Now start up company Rap Genius is too, and it raised over $40 million  to expand beyond the documenting of rap lyrics and into literature and history materials. By preserving historical records and allowing crowd-sourcing that enables their continued life, the company hopes to emphasize that "Any text can be as layered, as allusive and cryptic, as worthy of careful exegesis as rap lyrics."
What sparked your interest this week?
Tell us in the Comments or catch us on Twitter!
Like what you're reading? Subscribe to our newsletter to get W&M features and giveaways sent straight to your inbox!