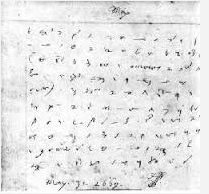 Archival Detectives
Archives play a major role for all of us at Wonders & Marvels. Whether we're sitting in the hushed reading rooms at the Wellcome Library  or wandering the gardens and museums at the Huntington, physical repositories are magical places. There we can play detective, hunting hard and in the right places to find historical figures, find details that help them breathe again, and locate flashes of what life was like before our own times. (For example, the archives show us that Samuel Pepys wrote his diary in code to keep privacy – see left.)
Digital archives are pretty exciting too! By this we don't only mean tools like the Folger Library's LUNA or  Early English Books Online. We also mean collections like the one hosted right here. The closer W&M gets to its 1000th post (this is post 942 in case you were wondering), the more we're looking back into the archives to understand this community's past and future. Why does "What the Romans Used for Toilet Paper" keep drawing you back  even after five years? And will "On Faking Virginity" soon be taking the mantle as the new "Most Viewed" piece?
Spies!
The W&M archives also hold up a mirror to our obsessions. One trend is certainly clear: Spies abound! While Kristie Macrakis recently uncovered a Nazi spy who hid secret ink in his teeth, Dara Horn examined the complex identity politics surrounding a Jewish spy living in the Confederate South. With an eye to the East, Pamela Toler educated us about the secrets surrounding Chinese silk worms (and exposed the methods by which spies and smugglers committed industrial espionage).  We've even hosted the work of young scholars such as Marco Tiburcio, whose coursework on cryptography led to a piece on decoding Pigpen Cipher.
The fact that these posts only scratch the surface of the collection is telling. W&M's staff and writers are fascinated by spies. And, apparently, so are our readers.
This self-awareness makes it even more logical that our first Books We Love feature is all about female espionage. There are clearly reasons that we've fallen in love with the four women of Karen Abbott's Liar, Temptress, Soldier, Spy, and why we'll even admit to trying out some of the techniques they used to write secret messages or smuggle important dispatches.
For all the reasons listed above, we're willing to bet you want in on the secrets too (obviously we have a lot in common!).  We're only too happy to oblige by giving you the password that opens the door.
Books We Love: Dossier Features
On July 29 and August 5, W&M will be hosting Karen Abbott as she shares a two-part feature: "Private & Confidential: The Female Spies of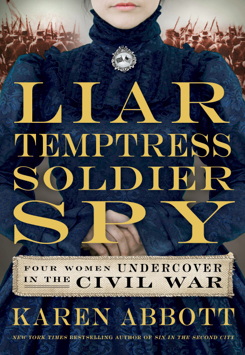 LTSS." Read along to learn more about the personal lives and professional risks these real-life women took for their causes, leave comments for us about your favorite characters–and sign up for her weekly newsletter to get even more information on giveaways and prizes.
We hope you'll join in!