By Marc Leepson (Guest Contributor)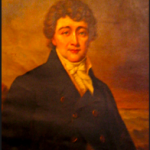 "He Rode Alone"
Early in June of 1842, a huge crowd of mourners turned out for the funeral of William Costin, the widely respected leader of the free African-American community in the nation's capital. More than seventy carriages filled with people, some of them white, trailed his casket to the cemetery, followed by a long line of men on horseback, all of them African-Americans with one exception. The one white rider was the noted Washington, D.C., lawyer Francis Scott Key.
It "must be admitted," an abolitionist newspaper commented, "that for a distinguished white citizen of Washington to ride alone among a larger number of colored men in doing honor to the memory of a deceased citizen of color evinces an elevation of soul above the meanness of popular prejudice, highly honorable to Mr. Key's profession as a friend of men of color. He rode alone."
Francis Scott Key is known to nearly every American as the man who wrote the words to "The Star-Spangled Banner" in 1814. During his lifetime, however, he was much better known as one of the top lawyers in Washington who ran a lucrative private practice in Georgetown and Washington. He played important roles in several high-profile court cases, argued scores of cases before the Supreme Court, and served for eight years (1833-41) as the city's U.S. Attorney.
"As He was Known to Family and Friends"
Frank Key—as he was known to family and friends—was a morally upright, conservative, and deeply religious family man. He also was a national player throughout his adult life in the most important social, political, economic and humanitarian issue of the Early Republic: slavery. As the young nation came alive in the 1820s, 30s and 40s, the slavery issue remained stubbornly unresolved. Francis Scott Key helped shape the national debate over slavery.
A slave owner from a large slave-owning family, Key was an early and ardent opponent of slave trafficking. By all accounts, Key treated his own slaves humanely, and freed several during his lifetime. What's more, he had a deserved reputation for providing free legal advice to impoverished free blacks and slaves in Washington.
"If ever man was a true friend to the African race, that man was Francis Scott Key," his friend, the Rev. John T. Brooke, one wrote. "Throughout his own region of the country, he was proverbially the colored man's friend. He was their standing gratuitous advocate in courts of justice, pressing their rights to the extent of the law, and ready to brave odium or even personal danger in their behalf."
A Complicated Legacy
There is no doubt that Key's legacy is a complicated one. The "true friend to African Americans" was, after all, one of the founders and most active proponents of the American Colonization Society. That was the controversial group founded in Washington in 1816 that worked for decades to send free African-Americans to a colony on Africa's West Coast that became the nation of Liberia. The group was reviled by abolitionists and many free blacks as little more than a vehicle to rid the nation of African Americans.
In addition, there is the fact that Key's long-time close personal and professional friend (and brother-in-law) Roger B. Taney, the U.S. Chief Justice, issued the infamous majority opinion in the 1857 Supreme Court Dred Scott case. In that case, Taney ruled that no enslaved African-American or any freed African-American descended from slaves could be a citizen of the United States.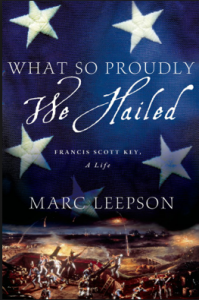 Journalist and Historian Marc Leepson is the author of eight books. His latest, What So Proudly We Hailed: Francis Scott Key, A Life, the first full biography of the author of The Star-Spangled Banner in more than seventy-five years, was published by Palgrave on June 24.
Like what you're reading? Subscribe to our newsletter below!