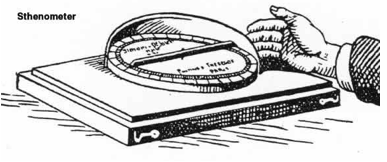 By Eric Laursen (Regular Contributor)
The Non-Existent N-Ray
In 1903 the French physicist Rene Blondlot announced that he had discovered the n-ray, a form of invisible electro-magnetic radiation named in honor of the University of Nancy, where he served as a member of the faculty. Two years later his results were negated by an American physicist, but not before twenty prominent French scientists confirmed the existence of the non-existent n-ray. By 1907, despite overwhelming evidence that n-rays did not exist, more than 150 scientists in over 300 published articles had claimed to be able to detect N-rays emitted from a variety of objects, including the human body and mind. The Russian scientist Naum Kotik was one who refused to give up on the idea of the n-ray; in 1905 he tried to duplicate the laboratory experiments of parapsychologist Paul Joire, who claimed to have detected nervous energy emanating from the human body by means of the sthenometer, an instrument of his own invention, a type of biometer in which a needle was balanced on a pivot in a glass case. Kotik writes that his own attempts to duplicate Joire's experiments at the psychiatric clinic of Moscow University were inconclusive, but only because he had abandoned his work there to take part in the failed Russian revolution of 1905. Despite all assertions to the contrary, Kotik expresses confidence in the existence of n-rays and in his own ability to prove in time that they emanate from the human brain.
Experiments in Mind-Reading
In a 1904 article entitled "Mind-reading and N-rays," Kotik describes his experiments in Odessa with a young psychic: "The transmission of thoughts is accomplished by means of the n-ray, which arises at the moment of thought in the brain of one person and has the capability to awaken the brain centers of another person and call up in that person a corresponding representation."  Kotik compares his work on the n-ray, a "special ray energy" that has both "psychological" and "physical" properties, to the recent discovery of electromagnetic waves by Herz, x-rays by Roentgen, and radiation by Marie Curie and Henri Becquerel, in whose laboratory Kotik had worked. According to Kotik, his scientific experiments proved that the human mind works in the same way as any radioactive substance, and that n-rays provide a scientific explanation for all kinds of paranormal phenomena from automatic writing to the practice of reading letters through sealed envelopes.
In addition to transmitting n-rays via the subconscious, or "lower mind," Kotik argued that they could also be communicated intentionally, which explained the work of hypnotists, since psycho-physical energy "flows from a body with a stronger psychic charge to a body with a weaker psychic charge."  When we speak a word, most of the psycho-physical energy is used up, passing into physical movement of the lips, tongue, vocal cords. Unspoken words on the other hand have a different energy flow: "When we just think words, then the energy produced remains free and becomes concentrated into N-rays (the law of the conservation of energy)."  Most of Kotik's experiments centered on testing to see if psychics, whose minds he believed were specially tuned to n-rays, could detect the radiation that he believed came from human thought.
The Case of Lydia, or Experimenting with Psycho-Physical Energy
In his 1907 Emanation of Psycho-physical Energy: Experimental Investigation of the Phenomena of Mediumism,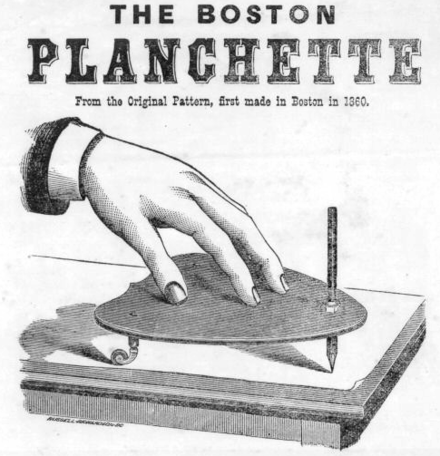 Clairvoyance, and Psychic Suggestion in Connection with the Question of the Radioactivity of the Brain, Kotik describes several experiments with a young psychic named Lydia. One of these involved automatic writing, a common paranormal practice at the turn of the century. Lydia would rest her hand on a planchette, a triangular elevated piece of cardboard equipped with a pencil, and Kotik would look intently at colored postcards while they conversed on an unrelated topic. According to Kotik Lydia's attention remained wholly on their conversation, yet her hand moved intermittently, seemingly of its own accord, writing descriptions of the postcards in surprising detail. He concludes that while their "upper minds" were occupied with conversation, their "lower minds" were communicating via n-rays, in what Kotik calls a "thought telegram." If wireless telegraphy could send messages across oceans with electromagnetic rays, then Kotik believed that the same feat could certainly be accomplished at a shorter distance by the electromagnetic rays of the human mind.
In a second experiment, by placing her hand on a sealed opaque envelope Lydia "read" the description contained within. Kotik argued that the radiation left on paper by the writer's n-rays had passed through the envelope and up her arm.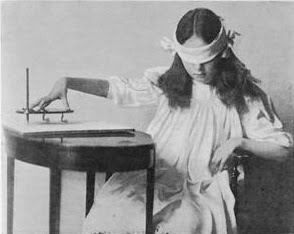 Hypothesizing that psycho-physical energy would work like electromagnetic energy, Kotik set up a second experiment to find out if metal would conduct it. Lydia held one end of a copper pipe that passed through a small hole in a closed door. The other end rested on a sealed envelope. As he predicted, metal readily conducted the psycho-physical energy remaining on the paper. In fact, the radiation that emanated from the human mind was so strong that it could override the written words to communicate an unrelated message sent by the writer's subconscious mind. For example, when Kotik requested that a preoccupied businessman write similar descriptions of postcards, Lydia could not describe the pictures he wrote about but instead described the financial matters that emanated from his "lower mind." Kotik speculated that the thoughts directed at the paper were far more powerful than the words actually written. As a test he tried the experiment with blank paper, and asserts that the radiation left by intently thinking at the paper was just as effective as writing on it.
Oh, if only it were true–writers everywhere would be so much more productive!