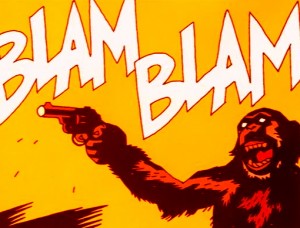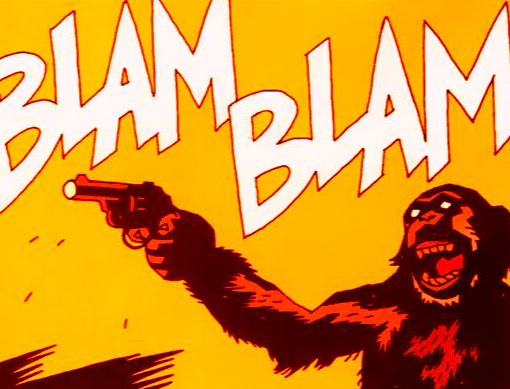 By Adrienne Mayor (Regular Contributor)
Armed and dangerous! Not a phrase that leaps to mind to describe monkeys, except in  science fiction fantasies. Indeed, to promote the movie "Rise of Planet of the Apes" (2011), 20th-Century Fox created a YouTube video that quickly went viral, showing  a chimpanzee terrorizing African soldiers with an AK-47.
As bizarre as the notion of employing monkeys as soldiers seems, the possibility has occurred to military commanders seeking secret weapons and surprise tactics. Monkeys' intelligence, physical agility, ability to emulate humans, and capability to manipulate simple mechanisms means that they are easily trained to play a role in warfare.
Who were the first monkeys to see action in war? Before the invention of gun powder fire-arms in China (ca 13th century), a 9th century Chinese chronicle ("Yu-yang-tsah-tsu" by Twan Ching-Shih) describes annual battles between soldiers of Po-mi-lan and 300,000 giant rock-throwing apes who came down from the high craggy mountains of the west to ravage crops every spring.
The earliest documented case of gun-toting monkeys appears in a Chinese account of 1610 ("Wu-tsah-tsu" by Sie Chung-Ghi). It  describes General Tseh-ki-Kwang's campaign against Japanese marauders in the 16th century. Capturing a troop of monkeys from Mount Shi-Chu in Fu-Tsing, he and his men trained the simian recruits to shoot fire-arms (or at least aim). When the general sent the monkey militia to the front and gave the order to fire, the terror-stricken Japanese raiders fled. Then the human soldiers hiding in ambush leaped up and slew them all.
In 2003, during the Iraq War, President George W. Bush turned down Morocco's offer of 2,000 monkeys from the Atlas Mountains trained to deactivate and detonate land mines. In ancient times no one expressed qualms about "weaponizing" animals out of sympathy for the creatures. But today, these controversial examples open discussion of the ethics of forcing animal "volunteers," from dogs to dolphins, to perform violent or dangerous acts in wars perpetrated by humans.
Adrienne Mayor is a Research Scholar in Classics and History of Science, Stanford University. She is the author of "Greek Fire, Poison Arrows, & Scorpion Bombs: Biological and Chemical Warfare in the Ancient World" (2009);  "The First Fossil Hunters: Dinosaurs, Mammoths, and Myths in Greek and Roman Times" (2011); and "The Poison King: The Life and Legend of Mithradates, Rome's Deadliest Enemy," a nonfiction finalist for the 2009 National Book Award.
This post first appeared at Wonders & Marvels on 6 May, 2012.