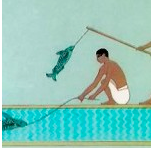 By Adrienne Mayor (Regular Contributor)
Cleopatra had a thousand ways of flattering Mark Antony, remarked Plutarch in his biography of the Egyptian queen's Roman lover. With a raptor's vigilance she monitored Antony's moods day and night and was always ready with some new diversion or novel adventure to distract and charm  him. Cleopatra was his drinking buddy and his gambling partner at dice; she accompanied him whenever he exercised, hunted, and practiced with his weapons. Dressed in disreputable disguises, the couple enjoyed rambling recklessly around town in the middle of the night like hooligans, pounding on people's doors and shouting insults at their windows.
One day Cleopatra took Antony fishing on the Nile on her barge, accompanied by a flotilla of smaller fishing boats. Everyone pulled up a good number of Nile perch on their lines that day except Anthony. Feeling humiliated in front of his mistress and determined not to be skunked again, Anthony devised a plan. The next day he secretly paid several fishermen to dive underwater and place their own freshly caught fish on his hook. Over the next hour or so Antony drew up fish after fish. The Egyptians marveled at the heap of silvery blue fish on the deck and wondered at the speed at which the perch were taking the Roman's bait.
Cleopatra immediately figured out Antony's ruse but she feigned great admiration, crowing over what a natural fisherman he was. Boasting that his haul would be even more impressive tomorrow, she invited everyone back for another day of fishing.
The next day Cleopatra arranged her own trick. As soon as Anthony let down his line, she had her servants "dive down and affix a large salted fish from the Black Sea on Anthony's hook." Feeling the tugging on the line Anthony quickly landed the heavy fish. As everyone stared at his catch it was instantly obvious that he'd pulled up a big fish that was not only long dead but definitely not a denizen of the Nile. As Plutarch comments, you can imagine the guffaws and hoots that ensued. Cleopatra, giggling mischievously, diverted Antony's irritation with flattery: "Better to leave fishing to us poor Egyptians—your game is conquering kingdoms."
Nile perch (Lates niloticus) have a high fat content so they were preserved by smoking instead of drying and salting. Black Sea fisheries exported vast stores of salted fish around the ancient Mediterranean world. The large salt-cured fish from the Black Sea "caught" by Antony in the Nile was most likely a tuna. Great schools of Atlantic bluefin tuna (Thunnus thynnus) used to dominate the Black Sea but went extinct there in antiquity; today they are endangered in the Atlantic.
About the author: Adrienne Mayor is a Research Scholar in Classics and History of Science, Stanford University. She is the author of "The First Fossil Hunters: Dinosaurs, Mammoths, and Myths in Greek and Roman Times" (2011), "The Poison King: The Life and Legend of Mithradates, Rome's Deadliest Enemy," a nonfiction finalist for the 2009 National Book Award, and "The Amazons: Lives and Legends of Warrior Women across the Ancient World" (fall 2014).