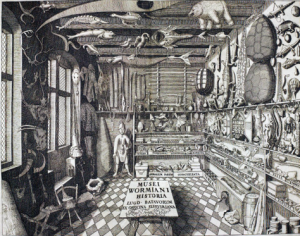 Welcome to our first ever CABINET OF CURIOSITIES — a weekly collection of the compelling news and discussions that caught our attention this week in the world of history and historical studies!
This week was the 70th anniversary of the Allied invasion at Normandy. 93 year old Xenia, OH veteran Jim Martin marked the event by parachuting again to the same site. Meanwhile, women's efforts are also gaining recognition.
Did you ever wonder what kinds of jobs people had in the Middle Ages?  (Hint: there were more options than just the "Butcher, Baker, and Candlestick Maker" in the old nursery song).
Meet six women who have freshly returned from adventures in the American Southwest. Their HerStory Tour tracked down the tales of real women of the past.
Curious about the intersection of social media and history scholarship, one #Twitterstorian crowd-sourced and Storyfied the answers he got. Do you agree?
Always game for mystery and conspiracy, we learned more this week about how historians perceive and discuss the elusive Illuminati.
What did you learn this week? Be sure to share your favorites in the Comments section below or on Twitter @history_geek.
And, if you like what you learn from Wonders & Marvels, be sure to sign up for our email list and get posts delivered to your inbox As they Happen, Weekly, Monthly (you're the boss on this!).