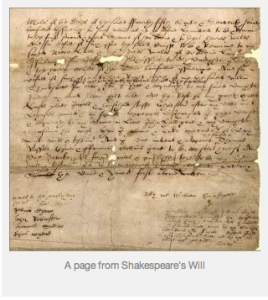 It's time, once again, for CABINET OF CURIOSITIES, our weekly round up of the historical and history-making headlines that drew our attention and captured our imaginations…
In a momentous performance, Tona Brown became the first openly transgender African American to play at Carnegie Hall.
This week in 1972, Title IX was enacted with the intent of preventing educational institutions from discriminating against students or staff on the basis of sex.
Last year, Alan Turing received posthumous pardon from the Queen Elizabeth II for his 1952 conviction of "gross indecency." Now, a monument has been erected to celebrate not only his scientific contributions, but also to emphasize his identity as a part of the LGBTQ community.
Important documents held by the National Archives and the Shakespeare Birthplace Trust will now be available at the UNESCO Memory of the World UK Register. The public will be able to view some of these documents in person in 2016.
What fascinated you this week? Let us know in the comments section or on Twitter @history_geek. Like what you're reading? Subscribe to our newsletter!