by Stephanie Cowell
If you are willing to take a long bus ride, you can catch the New York City bus to the Cloisters. It bumps along Fifth Avenue and then eventually turns north on upper Broadway. After a very long time, you turn into the enormous open gates of a park which sits high above the Hudson River. The bus rounds a corner, you look up at the great tower, and you are no longer anywhere but here, perhaps the year 1200, some place in France.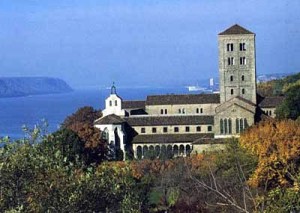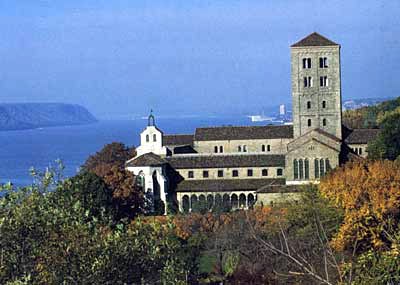 You have arrived at the Cloisters Museum.
It is not a real Cloister, or actually it is parts of several real cloisters, brought stone by stone from various abandoned monasteries in Europe and reassembled and connected with clever architecture in upper New York City. It is a place that has stayed much the same since I first entered it as an awestruck girl of thirteen. Even then somewhere inside of me the historical novelist was growing. I was looking for the Europe of centuries past and here it was. Some bit of medieval music was even wafting in the air, or perhaps I did not hear it until subsequent visits.
I have been there so often now during all seasons and over so many years that my visits have blended. The dreamy girl turned into the young mother; then I think I was not able to go for a time. My sons grew up, I began to write novels and returned and found it waiting for me.
At my first visit, first I thought that the Cloisters had always been there but of course it has not. Like many great endeavors, it took a few visionaries and then hundreds of other gifted people from stoneworkers to curators to create it.
In 1917 the land which it crowns high above the bucolic Hudson River was purchased by the philanthropist John D. Rockefeller Jr. who developed it into Ft. Tryon Park. He also bought parts of five European abbeys which were carefully disassembled, each stone marked to identify its proper place; they were reconstructed and integrated together in the park between 1934 and 1939 with additional buildings in medieval style designed by architect Charles Collens, assisted by Joseph Breck and James J. Rorimer. To begin the astonishing collection of medieval art, Rockefeller bought the huge collection of American sculptor George Gray Barnard. Rockefeller also donated from his own walls the world famous Unicorn tapestries. (Created in the 15th century, these remarkable tapestries were at one low point used to cover heaps of potatoes in France and then served as bed hangings.)
In 1958, a major new addition was added to the Cloisters Museum: a twelfth-century limestone apse from the church in Fuentidueña, Spain, also dismantled and reconstructed stone by stone.
For me it is a sacred rite to visit the Cloisters. When I enter the doors and climb the stairs, something inside me drifts into an awed silence. I feel it belongs to me but I know every other person there feels that as well, and that we share it.
Water plays from an old fountain; saints with stone faces worn dull watch us pass. In the Treasury, a space of a few small rooms, priceless illuminated prayer books which were used for prayer seven centuries ago look up at us; Crucifixes and reliquaries and tiny portable altars made of ivory small enough to fold into a pocket seem to listen for our steps. There is a very old staircase of wood and I am sure someone was about to descend as I came around the corner, someone who is not quite in this world anymore. It was after all the great scientist Einstein who wrote, "…the distinction between past, present, and future is only an illusion, however persistent."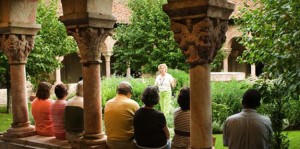 I like to sit in the Cuxa Cloister with my back to one of the columns. I always go down to the herbal gardens with their quince trees and the overlook of the park and the river. I love the intimate flowery Trie Cloister where a small café operates now in seasonable weather, and you can have a coffee and small sandwich. I always stop in the bookshop. I leave a little dreamy; I am never quite ready to re-enter the world.
There is, after all, a spirit in the Cloisters Museum which is more than the sum of its parts. There is more to it than worn stone art, flowering trees, herbal gardens, hand-illuminated prayer books; it is the entrance to a place where the most reflective part of us meets a place beyond time. And especially if you live in the city, you can go there whenever you want and find that place inside yourself again.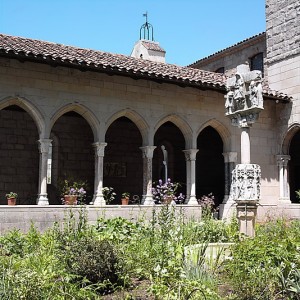 ____________________________
About the author: Historical novelist Stephanie Cowell is the author of Nicholas Cooke, The Physician of London, The Players: a novel of the young Shakespeare, Marrying Mozart and Claude & Camille: a novel of Monet. She is the recipient of the American Book Award. Her work has been translated into nine languages. Stephanie is currently finishing two novels, one on the love story of Elizabeth Barrett and Robert Browning, and the second about the year Shakespeare wrote Hamlet. Her website is http://www.stephaniecowell.com