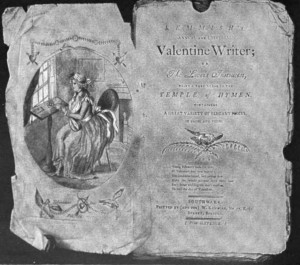 The origin of today's festival is murky, but it has been a tradition for centuries. By the Georgian period, it was a popular celebration much as it is now, and you could even commission a 'Valentine Writer' to pen your love letters for you. In London in 1791, The Star newspaper published a page of poems and thoughts on how this day for lovers had come about and how the day was represented in the literature of the day.
VALENTINE
—————
Arise, arise, sweet VALENTINE,
To see the Sun in lustre shine;
As liveried clouds around him wait.
Arrang'd in more than usual state;
Propitious on thy natal day,
While surly Winter slinks away
With all his ruffian blasts amain,
Disturber of thy gentle reign.Welcome Spring in mantle green
Whose emblem's in my ANNA seen.
In whom lives all that nature taught,
Or fancy's self from genius caught;
For truth must hail thee all divine,
My love, my hope, my VALENTINE.
J.F.
-There is a rural tradition on this day, birds chuse their mates; from when probably arose the custom of chusing Valentines, which affords an innocent exercise for the fancies of young people in various parts of Europe….Ghosts were anciently supposed to have the power of walking on the night of this day, when it became the custom in the followers of the Romish superstition to chuse on this day their Protecting Saints. On this day, in the North of England, and in Scotland, it is usual for young persons of both sexes to interchange presents. Pennant says, in his Tour of Scotland, that the drawing of Valentines is done there with great seriousness, as involving the future fortune of the married state.  See also Dr. Goldsmith's Vicar of Wakefield, where, in a description of rustic manners, we are told it was always customary to send true love knots of Valentine morning.
-Valentine, whose name has been given on this day, was a primitive father of the Church, beheaded in the reign of the Emperor Claudius. [John] Gay has given us a pretty description of rural ceremonies observed on this day:
Last Valentine, the day when birds of kind
Their paramours with mutual chirpings find,
I early rose, just at the break of day,
Before the Sun had chased the Stars away;
A-field I went amid the morning dew,
To milk my kine, for so house-wives do;
The first I spied, and the first swain we see,
In spite of fortune shall our truelove be.