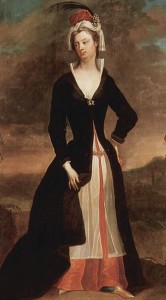 Lady Mary Wortley Montagu would not only introduce London to innoculation against smallpox, but also her series of 'Turkish Embassy Letters' make up the first secular work on the Muslim Orient by a Western woman.
Her life of adventure began when she escaped an arranged married with the astonishingly named Clotworthy Skeffington by marrying Edward Wortley Montagu. Mary bore him a son and her time in London was spent mixing in the highest circles, both social and intellectual as befitted the widely-educated daughter of a Duke. In the winter of 1715 all of this was to change: Lady Mary contracted smallpox. She survived, but she was 'very severely markt' in both appearance and temperament. Although she did not love Edward, she was was forever grateful that he did not cast aside once her beauty was eradicated.
In August of 1716, Edward was made Ambassador to Istanbul and they set out on a long journey via land and sea. In Vienna she was astonished to find that older women were very much in demand.
'A Woman till 5 and thirty is look'd upon as a raw Girl and can possibly make no noise in the World till about forty. I cannot help lamenting upon this Occassion the pittifull case of so many good English Ladys long since retir'd to pruderie and rattafia, who, if their stars had luckily conducted them hither, would still shine in the first rank of Beautys'
Arriving in Sofia she and Edward went sightseeing, then Lady Mary set out alone on a little mission of her own. She hired a private coach, known as an araba and set out for a Turkish public bath, recording the experience in a letter to a friend dated 1st of April 1717 which opens, I am now got into a whole new World'. The world of the bagnio.
It was hard to tell the mistresses from their servants, Lady Mary remarked for they were all 'in the state of nature, that is, in plain English, stark naked'. Having observed the conversation and seeing 'some working, others drinking Coffee or sherbet' Lady Mary came to the conclusion that, 'In short, tis the Women's coffee house, where all the news of the Town is told, Scandal invented etc.' Amongst her other letters from Turkey is another, also written on the 1st of April 1717. It tells of the inoculation of her son against smallpox, using an accepted Turkish method of 'ripping' a four or five veins with a large needle, applying pus from the sores of a smallpox victim, then covering the site with a 'hollow bit of shell' and binding them up. She reported to her husband, 'The Boy was engrafted last Tuesday, and is at this time singing and playing and very impatient for his supper'. The success of this operation led her to 'take pains to bring this usefull invention into fashion in England'.
Yet on her return to England she found both smallpox and arguments about its treatment raging. During the epidemic of 1719 which saw many of her friends and acquaintances die of the disease, she was remarkably silent. Then in the early part of 1721 it was so warm that roses bloomed in January and smallpox went 'forth like a destroying Angel'. Lady Mary called upon Charles Maitland, an English doctor she had met in Turkey, to inoculate her daughter but he hesitated. It was one thing to perform the operation in Turkey, but another to do it in London. He made sure he had two witnesses from the Royal College of Physicians before performing the operation. One was James Keith, a friend of Maitland who had lost two of his sons to smallpox in 1717. After seeing the operation he immediately inoculated his remaining son.
London's aristocracy began to visit Mary to see if they should engraft their own children. The visitors included Caroline, Princess of Wales who was then behind the testing of inoculation on condemned prisoners in Newgate. The experiment was a success, securing royal approval for smallpox inoculation, but the press did not take to it so kindly, or to Lady Mary. She was branded an 'unnatural mother who had risked the lives of her own children' and people began to 'hoot' at her in the street. Yet, the list of parents taking early action to protect their children is extensively drawn from Lady Mary's own friends and acquaintances and the people who came to visit her children. She exploited the polite tea party circuit and took her children all over London to show that they had been unharmed by the operation.
The fact that she was well-known and her position in society contributed largely to the success of Maitland's subsequent career in inoculation. Their pioneering work would lay the bedrock built upon by Edward Jenner later in the century. Jenner brought mass inoculation to England, but Lady Mary's and Maitland's early efforts laid the ground work, particularly amongst the charitable rich.