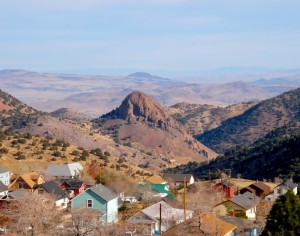 Here is my day. Every morning I wake at dawn. I sit Indian fashion on my cot and look out my window over Virginia City and a 100 Mile View. My window faces due East, straight down Mount Davidson. On a Clear Day I can see 100 miles. That reminds me that God sees a million million miles. I pray Dear Lord help me see the Unseen as well as the Seen. I see Sugar Loaf right smack dab there in the middle. It reminds me of Devil's Peak which looks similar to Sugar Loaf but more pointy. That reminds me to Beware of Satan. I pray Dear Lord Deliver me from Evil. I see the Tailings from some of the mines and I hear the thump of the Quartz Stamp Mills. That reminds me what this place is all about: Mammon. It reminds me not to get entranced by the Pursuit of Riches but to try to Do Good Unto Others.
Here is my apparel. On my head I wear a rusty black slouch hat with a hawk feather in it. My mentor Poker Face Jace gave it to me. He told me he won it off an Indian. It smells faintly of bear fat which always makes me think of my original ma, a Lakota or "Sioux". A party of Shoshone kilt her when I was ten. As I put that bear-fat-smelling-hat on my head I say Thank You Lord for my original Ma who taught me to Track and Shoot and Skin a Critter and also to Ride a Horse.
Next I don a faded miner's shirt. Some people ask me why I am wearing a Pink shirt. I tell them it is not Pink; it is faded red. I like it because it is flannel and it is soft and warm. It goes with my nick-name: Pinky. It reminds me of my neighbour Isaiah Coffin. He has the Ambrotype & Photographic Gallery next door. He has a whole cupboard of clothes and he lets me borrow them for my Detective Disguises. I say Thank You Lord for Isaiah Coffin who lets me borrow his fancy clothes for my Detective Disguises.
Next I put on my buckskin trowsers. They have fringe like Indian buckskins but also pockets, which most Indian buckskins do not have. The reason my buckskin trowsers have pockets is because they were made special for me as a 12th birthday present by my dead foster Ma Evangeline. When I tug them on I think of her and I say Thank You Lord for Ma and Pa Jones, who taught me to Read & Write and also about You.
Next I lace up my moccasins. They are real soft and help me walk without making a sound. There is a spot of blood on them from where I got shot by a desperado called Whittlin Walt who is burning in Hellfire right about now. That Spot of Blood makes me think of Doc Pinkerton who dug out the ball. I say Thank You Lord for Doc Pinkerton who bears the same last name as me but is not related.
In my pocket I carry a Smith & Wesson's Seven-shooter. It takes them new cartridges with the ball and powder all in a metal cylinder. I say Thank You Lord for Mr. Sam Clemens who gave me this firearm, even though he is a Lying Varmint. I promised my dying Foster Ma I would never Take a Man's life but in a town like this where everybody carries a gun it is mighty comforting to have it there in my pocket.
Finally I dangle my Medicine Bag around my neck. Most Indian Braves dangle the Medicine Bag lower down, but that would impede me so I dangle mine around my neck, tucked inside my flannel shirt which is not Pink but faded red and goes with my nick-name: Pinky. In my Medicine Bag are some Lucifers, a flint knife, a gold Eagle and my Detective Button. It is a clew to the Identity of my real Pa. It says Pinkerton Rail Road Detective on it. It might have belonged to my Pa or it might not. I pray Thank You Lord for my Real Pa whether he was a bona fide Pinkerton or Not. If he is bona fide and not bogus, I would like to find him one day and work with him in his Detective Agency in Chicago. Please help me do this, Lord, and not get kilt. Amen.
The above prayer is fiction. It is one of the many passages I trimmed from of my P.K. Pinkerton Mysteries. It gives a taste of P.K.'s third adventure – P.K. Pinkerton and the Pistol-Packing Widows – which comes out soon. You can read a Kirkus review of it HERE.