By David Laskin (Guest Contributor)
*The publisher is offering a giveaway copy or two.  For a chance to win one, please leave a comment.  David will be keeping an eye on comments and is looking forward to interacting with W&M readers.  Winners will be selected randomly.  US only.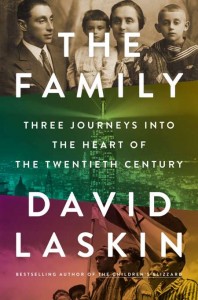 I love how the term "family history" straddles the intimate and the momentous.  We family historians start with our grandparents' memories and recipes, move on to census records and army discharge papers, and end, to our delight or horror or both, with world war, fortunes made and lost, the rise and fall of nations, boom, bust and genocide.
Surprises are to be expected when you go searching for your roots.
I had always know that my Great Aunt Itel, known to the world as Ida Rosenthal, founded the legendary Maidenform Bra Company ("I dreamed I…in my Maidenform Bra").  On the strength of wits, ambition and marketing genius, this chain-smoking 4 foot 11 inch immigrant dynamo turned a novelty undergarment line into one of the largest family businesses in the world.
What I discovered, after searching Ancestry.com and interviewing distant relatives, is that while Aunt Itel was becoming a tycoon in Roaring Twenties New York, her first cousins Chaim and Sonia were struggling to make the desert bloom as idealistic Zionist pioneer farmers in what was then Palestine.
Chaim and Sonia's children in present-day Israel revealed to me that there was yet a third branch of the family that I had never known of.  These were the relatives who had chosen to remain behind in what was then Poland.  A trove of family letters that the Israelis had saved for 40 years revealed the story.
As economic and social conditions deteriorated during the 1930s, the family in Poland agonized about leaving. In September,1939, the door slammed shut.  With the outbreak of war, the family was trapped in Soviet-occupied Poland.  Two years later, Hitler broke his pact with Stalin and the Germany army seized the sector of Poland where my family lived.  The cousins of the glamorous bra tycoon became prisoners of the Third Reich.
All of them perished in the Holocaust.
David Laskin is author of The Family:  Three Journeys into the Heart of the 20th Century, just published by Viking.