by Adrienne Mayor (Wonders and Marvels contributor)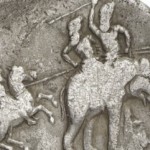 Alexander and his men waded across the raging Hydaspes River during a violent lightning storm to surprise the vast army of 35,000 men commanded by king Porus of India (326 BC). Already taken aback by Porus's 200 war elephants, the Macedonians were awe-struck by the prodigious height of the Hindu king. According to Alexander's biographer Plutarch, the monarch's "great size and powerful physique made him appear as suitably mounted on an elephant as an ordinary man looks on a horse." Porus was nearly 7 feet tall, towering over Alexander, who was about 5 feet, average size for a Greek man of that era. The Porus's high turban and majestic bearing amplified the impression of grandeur, as did his seat on the back of an extra-large Indian elephant, about 11 feet at the shoulder.
The Macedonians emerged victorious after a long and bloody battle. Porus was captured; he'd lost a staggering 23,000 of his men. Alexander politely asked his king-sized prisoner how he wished to be treated. "Like a king!" was Porus's booming reply. The two rulers became friends and Alexander gave him command of his former kingdom as his vassal.
Porus was not the first giant encountered by Alexander and his army. In 335 BC when he was consolidating his power in the Balkans, Alexander met with the robust, tall Celts of the Danube and Adriatic Sea region. The historian Arrian wrote that Alexander, hoping to hear his own name, asked "these people of great stature and arrogant disposition" to name their greatest fear. "That the sky might fall on their heads!" came the booming reply. Alexander stalked away, muttering that the Celts' answer seemed to trumpet their own sky-scraping height. Averaging about 6-6.5 feet tall, the Celts were not truly giants—but they certainly seemed so to the smaller Greeks.
The gigantic stature of Porus (and the Celts) may have inspired Alexander's psychological ruse of war after the great battle at the Hydaspes River. To discourage potential attacks and to impress the inhabitants of Pakistan and northern India, Plutarch reported that Alexander ordered his blacksmiths to forge special weapons and equipment that "far exceeded the normal size and weight." He left these huge items in his camps around the countryside to frighten the populace. But the country of India itself proved far vaster than the Macedonians had imagined. Not long after the defeat of Porus, Alexander and his army began the long march home.
About the author: Adrienne Mayor is a Research Scholar in Classics and History of Science, Stanford University. She is the author of "Greek Fire, Poison Arrows, & Scorpion Bombs: Biological and Chemical Warfare in the Ancient World" (2009); and "The Poison King: The Life and Legend of Mithradates, Rome's Deadliest Enemy," a nonfiction finalist for the 2009 National Book Award.