by Jack El-Hai, Wonders & Marvels contributor
September 10 marks the official release of my new book The Nazi and the Psychiatrist: Hermann Göring, Dr. Douglas M. Kelley, and a Fatal Meeting of Minds at the End of WWII (PublicAffairs Books).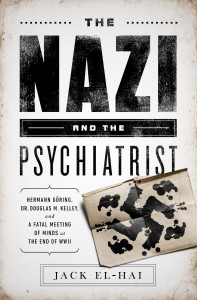 I've worked steadily on this book since 2007, when I found in a private family collection a treasure trove of historic documents intimately connected with the 1945-46 International Military Tribunal at Nuremberg, including medical and psychiatric records of the top Nazi defendants that had not seen the light of day for more than 60 years. My book trailer gives an overview of The Nazi and the Psychiatrist.
Throughout that exciting time of research and writing, I gathered a great deal of information on psychiatrists and psychologists who gained access to the Nuremberg prisoners to examine and assess their psyches. And here I present a list:
1. Douglas M. Kelley, M.D., who is the subject of The Nazi and the Psychiatrist. Born in Truckee, California (and the grandson of the first historian of the ill-fated Donner Party that perished in the nearby mountains), Kelley was trained as a psychiatrist at the medical school of the University of California and became an early exponent of the Rorschach inkblot assessment. He enlisted in the U.S. Army in 1942 and quickly broke new ground in treating World War II soldiers for combat exhaustion, commonly known as shell shock. At the end of the war, Kelley received orders to travel to Mondorf-les-Bains, Luxembourg, to study the mental competency of the Nazi leaders being held there. His patients included Reichsmarschall and Luftwaffe chief Hermann Göring, foreign minister Joachim von Ribbentrop, Nazi "philosopher" Alfred Rosenberg, and anti-Semitic propagandist Julius Streicher, and many others. Kelley followed these prisoners to Nuremberg, where preparations were underway for their trial. There deputy Führer Rudolf Hess joined the group, and Kelley continued his examinations using the Rorschach inkblot test and other psychological assessments.
The psychiatrist had developed his own pet project — a search for psychological traits common to the prisoners that would allow Kelley to describe a "Nazi personality." Kelley found something much different from what he had hoped, although he built an extremely close relationship with Göring. Kelley's inability to identify the expected qualities of a Nazi mind rattled him, as did Göring's suicide in October 1946. By that time, Kelley had changed his professional focus from psychiatry to criminology, and he began a long spiral downward through alcoholism, marital strife, workaholism, and fierce inner rage. He committed suicide on New Year's Day 1958 by swallowing cyanide, the same poison Göring had used to end his life.
2. Gustave Gilbert, Ph.D. A New York-born psychologist who arrived in Nuremberg two months after Kelley, Gilbert had similar ambitions. He hoped to write a book with Kelley about the top Nazis, but Kelley — confident he could produce a book on his own and unimpressed by Gilbert's Rorschach skills — abruptly broke their agreement. Although Gilbert was Jewish, his fluency in German endeared him to some of the Nazi defendants. Eventually Gilbert and Kelley both wrote their own books about their Nuremberg experiences.
3. Leon Goldensohn, M.D. Goldensohn became the Nuremberg staff psychiatrist in 1946 when Kelley returned to the U.S. He had a gentler and more soft-spoken demeanor than his predecessor, and a volume of his conversations with the top Nazis was published in 2004, decades after his death.
4. Donald Ewen Cameron, M.D. As the opening of the International Tribunal neared in the fall of 1945, Cameron, a Scottish-born psychiatrist then teaching at McGill University, teamed with psychoanalyst Nolan D.C. Lewis to produce a report for the court on the mental stability of Rudolf Hess. Agreeing with Kelley, they determined that Hess was sane and not psychotic. Cameron later gained notoriety for performing mind-control and behavior modification research for the CIA.
5. Paul L. Schroeder, M.D. An Army psychiatrist like Kelley, Schroeder occasionally assisted in the administration of psychological tests and served on a panel of psychiatrists from the U.S., the U.S.S.R., and France to examine Julius Streicher and determine his mental capacity to participate in his trial.
All of these men — with their varying aims, approaches, and areas of expertise — figure in the story of The Nazi and the Psychiatrist in different degrees.
If you read the book, please leave a comment below or reach me through my website and let me know what you think.