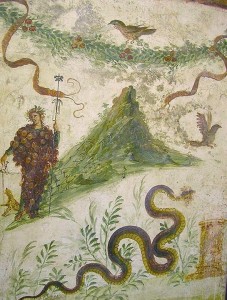 by Caroline Lawrence
Girolamo Ferdinando De Simone is an Italian-born, Oxford-educated archaeologist based in Naples. We met via Twitter because he likes my children's book, The Secrets of Vesuvius, and might stage a shortened version using local schoolchildren on the north slope of Vesuvius. Finding himself in London for a colloquium on Herculaneum he tweeted me and we agreed to meet at the South Bank in London one Saturday for a coffee.
He and his girlfriend Ivana arrive looking like Italian movie stars. They are both from Naples and tell me lots of exciting things about excavations on the north slope of Vesuvius, sometimes called "the dark side" of Vesuvius. In return I let them in on a secret: the British Museum Pompeii Exhibition opens at 9am on a Sunday morning. They take the hint and we all meet the next day to go through it.
Although it is my seventh visit to this exhibition, my hour with Ferdinando opens my eyes. He shows me many things I'd never seen, even though they have always been right there in front of me.
One of those many things is Dionysus, the god of wine.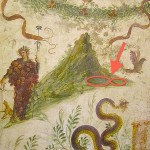 We stand before the famous fresco of Dionysus and Vesuvius. Some scholars have wondered if  this really shows the famous volcano. They are confused by certain elements including a strange "figure of eight" at its foot. Ferdinando believes this was the artist's way of showing the double caldera (crater) inside the mountain. This is where Spartacus and his men camped roughly a century before Vesuvius' famous eruption, when they were on the run. I have shown this fresco to pupils hundreds of times but never noticed this element before!
Ferdinando tells me there were two peaks and in fact still are; the volcano's official name is Somma-Vesuvius. The vineyards indicate the north slope, where he is now digging. It surprises me to learn that within a generation of Vesuvius erupting, the Romans were once again building on that slope. Volcanic ash is incredibly rich and vineyards would have produced fabulous crops.
I always tell school kids that Dionysus is wearing grapes and giving his pet leopard some wine. But as Ferdinando talks, I see that he is not wearing grapes, they are wearing him. The artist has shown a bunch of grapes with Dionysus inside. He inhabits the cluster. And he is pouring a libation, not trying to get his pet tipsy!
Ferdinando is frustrated that so many people think Dionysus only represents drunkenness and madness. Dionysus is also the god of theatre, plant fertility, resurrection and of course the crop the sustained the region. The whole economy of the Vesuvius region was dependent on grapes and wine.
This particular fresco, says Ferdinando, is about Cult. The Cult of Dionysus. We see it out of context, but was found on the left hand side of a shrine. Garlands, fillets and birds are almost always found on lararium frescos and we can even see an altar in the foreground (it looks like a truncated column with a lucky snake protecting it.)
The name of the god can be confusing. Dionysus is his Greek name. Bacchus is one of the names used for Dionysus in Roman times. It is the Latin version of Dionysus Bacchaus. He is also blended with Liber Pater, an Etruscan/Latin god who was already in Italy. So we have Dionysus in several incarnations: a baby reared by Hermes and the nymphs; a dignified and beautiful youth with long hair; a jolly older man riding a mule. His followers are satyrs, fauns, pans, nymphs and maenads. His special animals are the panther, snake and goat.
Now as we continue through the exhibition, I see Dionysus everywhere. I see him in the panther table, in the hanging marble disc, ("oscilla are 90% associated with the cult of Dionysus") and in the many theatrical masks. (Theatre started as part of the cultic worship of this god.) I see the cista mystica, the special box or basket containing objects for his cult: a veiled phallus, kantharos and syrinx (pan pipes). I see Ariadne abandoned on an island by Theseus and virtually dead, until Dionysus comes to "resurrect" her.
Finally, we come to two marble reliefs recently uncovered in a villa from Herculaneum. "This one my father discovered!" Ferdinando says of a relief showing a nymph with fauns. And he has written a brilliant article about the other relief (below). He points out the cult statue of Dionysus and a procession of people approaching it: two youths, a citizen and a maenad. This is a rare depiction of an ancient Greek rite, seen through Roman eyes.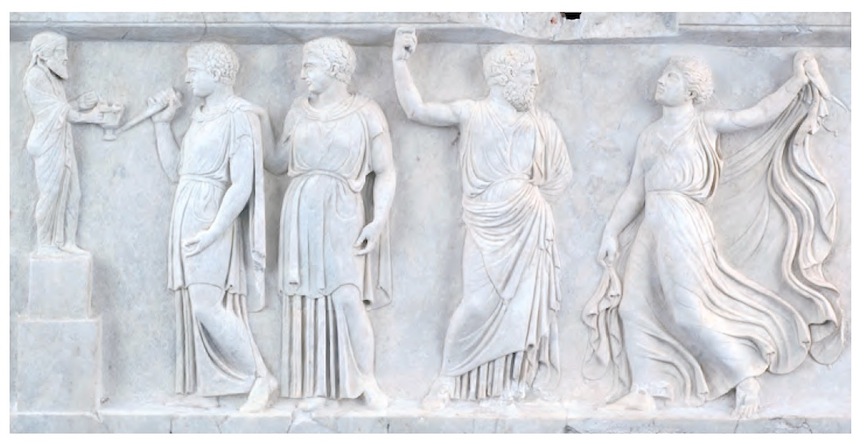 Ferdinando draws my attention to the hand-gesture Dionysus makes as he holds the kantharos, his special cup. We think of this gesture as cornuto, the horns, used to mock a cuckold, but in Roman times it was a secret sign like a finger to the lips saying "Look but don't tell…" It may also have been apotropaic: a sign against evil.
The most exciting thing is the revelation that the dagger-like object in one of the youth's hands is an acus, a vintner's tool for punching holes in the ground for vine roots. It has flanges to ensure the optimal depth for planting a new vine, not too shallow, not too deep.
There is more, much more, but I have run out of space. And you have almost run out of time. The Pompeii Exhibition will only be on for another month or so in London.
When you go to Pompeii or the exhibition at the British Museum look for its patron god, Dionysus. You will see him everywhere. He is the Secret of Vesuvius.
P.S. For a better view of the figure 8 caldera and the other relief, etc. go to my Vesuvius Pinterest page.