by Tracy Barrett (W&M contributor)
I recently accompanied a group of alumni from Vanderbilt University on a cruise that started in Cannes and ended in Venice, with lots of stops on the way (at one point, we were in four different countries in four days). In Florence, I left the group and went to the Archaeological Museum, where only a few visitors were there to admire the gorgeously displayed Etruscan artifacts, and to the Bargello Museum, almost as deserted, where I visited Donatello's David (the 1440 version) twice because one look isn't enough. In Rome, a group went with me, and we strolled in the small streets between Piazza Venezia and the Pantheon. (If we'd had time, we would have gone up the Aventine Hill instead—next trip.)
If you find yourself in the Adriatic and want to flee the crowds, there's an entire site off the beaten path: the Greek and Roman town of Butrint, near Saranda, Albania.
You can read more about this site, an important port for the Hellenistic Greeks and later the Romans, here. Briefly, the Romans took over the Greek settlement of Buthrotum and then abandoned it when the marsh rose into the town. Much of it still lies unexcavated under forest. The marsh means lots of mosquitoes, which in turn means lots of swallows that are so effective that I don't think anyone in our group was bitten. There are also snakes, but our guide was the only person who saw any, and she was nice enough not to mention it until we were back on the road.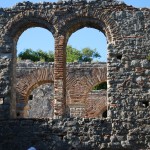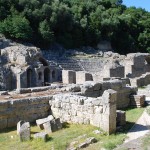 We were the only group there on a beautiful June day. Saranda is just six miles from Corfu, and the authorities hope that as more of the site is excavated, tourism will increase. If you want to visit in peace, go soon!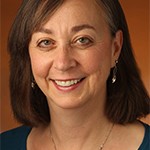 Tracy Barrett is the author of numerous books for young readers, most recently Dark of the Moon (Harcourt) and the Sherlock Files series (Henry Holt). Forthcoming from Harlequin Teen in July, 2014 is The Stepsister's Tale. She lives in Nashville, TN, where until last spring she taught Italian, Humanities, and Women's Studies at Vanderbilt University. Visit her website and her blog.