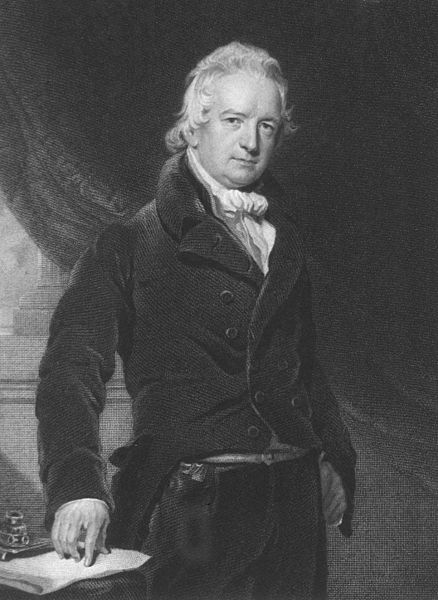 St Bartholomew's hospital has provided care for up to four hundred City patients since its founding in 1123 but it was during the eighteenth century the hospital moved from a treatment model based on medieval nursing to that of an active working hospital with many different types of medicine and medical science going on within its vast compound.
The main entrance to the hospital contains two enormous murals by William Hogarth, who had been born in Bartholomew Close. Hogarth found out that the trustees were going to use the Venetian artist Jacopo Amigoni to decorate the entrance hall to the hospital, and so offered to work for nothing rather than have foreign art in an English hospital.  The two pieces, Jesus at the Pool of Bethesda, and the Good Samaritan were painted in early 1737 in what Hogarth believed to be a Classical style, but they already reflect in detail the attention to reality that was to become to apparent in his later work.  Not for him the glossing over of ulcerated legs, distended bodies and disability, and only Jesus himself escapes from deformity and suppuration.
The famous surgeons of Bartholomew's hospital during the eighteenth century include Percival Pott, who was fascinated by occupational diseases and made the first identification of occupational cancer: scrotal cancer in teenagers who had worked as chimney-sweeps. Pott was succeeded by his famous pupil John Hunter, born in East Kilbride, Scotland in the late 1720s.  When he was 21 after an early career as a cabinet-maker he arrived in London to visit his older brother William who had established himself as a teacher of anatomy in Soho.  John decided he would stay and learn to be a doctor, and soon showed great talent.  He made important steps forward on identifying the existence and mechanism of the lymphatic system and in the late 1760s attempted to infect himself with venereal disease, a subject which on the time he was regarded as an authority.  Popular belief dictated that any venereal disease was just milder or more severe versions of the same thing, a belief which Hunter agreed.  After managing to infect himself with both gonorrhea and syphilis at the same time, during an inoculation experiment he discovered they were indeed, separate things.
The contribution of the Hunter brothers were working at the very beginning of the debate about life itself which would play out in the late 1700s in the purpose built 'theatre' of Bart's.  New philosophies such as Deism and Mesmerism, sat awkwardly with Britain's established Protestant religion.  One Bart's doctor who attempted to resolve this seeming gulf was John Abernethy (pictured).  Born just inside London Wall in Coleman Street in the City and a pupil of John Hunter, he went on to become the resident surgeon at Bart's.  He was a charismatic speaker and an eccentric character who mixed his ideas with very down to earth advice, which was delivered bluntly.  A lady came to him complaining of low spirits, to which his advice was 'Buy a skipping-rope', and when the Duke of Wellington arrived out-of-hours in Abernethy's parlour, Abernethy enquired as to how he had managed to get into the room. 'By the door,' the Duke said. 'Then,' Abernethy told him, 'I recommend you make your exit by the same way'.
Abernethy was surgeon during a time when one might not only be a doctor, but an authority upon the science of life itself.  The existence of the soul, or spirit as separate to the mind was a hot potato and one considered seriously by one of John Abernethy's lesser known pupils: Percy Bysshe Shelley.
In 1811, unhappy in his hasty marriage Shelley hugged the heels of his cousin Charles Grove around the wards of Bart's Hospital in the afternoons after attending Abernethy's lectures in the mornings.  He had just published his pamphlet, The Necessity of Atheism, signing off 'Thro' deficiency of proof, AN ATHEIST', resulting in his expulsion from Oxford.  Although he was quite clearly kicking against the idea of an omnipotent and omnipresent God, Shelley had not yet answered for himself 'The Vitality Question'.  What is life?  At Bart's, amongst men who dealt with the creation and snuffing out of life all the time, perhaps he thought he would find an answer.  He concluded only that 'Life, and the world, or whatever we call that which we are and feel, is an astonishing thing.'
Shelley's time at Bart's isn't reflected most keenly in his own work though, but in that of another.  During his time at the hospital, he had begun his love affair with Mary Godwin. They married in St Mildred's church, Poultry soon after his first wife drowned herself when he abandoned her.  Mary Shelley would become a 'silent but devout' listener to Shelley in his talks with Lawrence.  She would hear about surgery and dissection and experimentation upon dead and living bodies as well as the latest theories for how the mind and the soul occupied the body.  Galvinism, the crude beginning of understanding about the body's nervous and electrical impulses and the new experiments on 're-animating' corpses would also be something she became familiar with, and all in her mid-teens in the throes of a love affair.  This intense period of first love, mixed with hero worship and both the philosophy and the grim reality of medicine would combine in her novel published in 1818, Frankenstein.