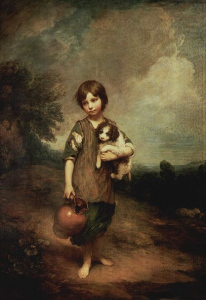 Between 1700 and 1800, there are almost 500 advertisements for lost dogs in the central London news-sheets.  The abduction of cosseted dogs seems to have been a rather lucrative trade, judging by some of the rewards offered.  It suits many modern historians to talk of cock-fighting and the riotous Cambridge students who tortured cats, but the nature of many of these advertisements leaves the reader in no doubt of the owners' affection for their lost companions, whether lap-dogs or working dogs:

Lost on Sunday Night, about Nine of the Clock, from my Lady Gouvernet in St James's Square, a Dutch Mastiff about 8 Years old, short Legg'd, with a large Neck and Head, pretty fat, big-eyed, short Nose and wide Mouth, his Back black, his belly, Breast, and Neck, Cream colour, with a black circle about his Neck, like a Collar exactly; and when he goes he straddles, and paws with his four Feet.  Whoever brings him to my Lady Gouvernet's House in St James's Square shall have a Guinea and Reasonable Charges. (Post Boy, February, 1701)
Lost on Saturday last, between Whitehall and Privy Garden, a small Red Dog of the Spaniel Kind, with four white Feet., a White Snip on his Nose, a few white Hairs on the outside of his Neck, and answers to the Name of MUFF.  Whoever, brings him to the Right Hon. the Earl of Waldegrave's, at Whitehall, shall receive Half a Guinea Reward. (Public Advertiser, Novemer 1768)
Lost, a Dog of the Pointer Kind, named Captain, fond of the Water, heavy made, fine Eyes, with an uncommon large Jowl of Flesh under his Throat, entirely white, about six Years old, strayed, or was stolen from Hutchinson's Stables in Water-Street, near Arundel-Street in the Strand, the first week of last November, (London Intelligencer, 1759)
LOST, on Saturday last, May 5th, near Grosvenor-gate, a yellow and white Spaniel Dog,rather old, very fat, and has lost an eye.  Whoever will bring him to Lady Robert Manners, Grosvenor-square, shall have Two Guineas reward. (Daily Advertiser, 1786)
LOST on Tuesday the 3d of July, near the Four Crosses on the Westchester Road, By Woolverhampton,   A red and white Bitch, of the Setting Breed, with a red Spot on her Forehead, answers to the Name of Phillis.  Whoever brings the said Bitch to Mr. Humphrey Wynne, of Shawberry, near Salop; or to Thomas Wieldup, at the Horse and Groom in Eagle- Street, Red Lion Square, shall receive a Reward of Five Guineas. (London Evening Post, 1753)
DOG. LOST – Strayed from the Door, in Line-street, about 9 o'clock on Sunday morning last, the 17th inst. a very small WHITE BITCH, of the French Breed.  She is all over white, excepting a small shade of brown, hardly perceptible, on the rump.  Her hair is very curly, stout, four years old, and answers to the name of CLARA.  Whoever brings her to Mr Maddocks, No.7 Lime-street will receive TWO GUINEAS for their trouble.  (The Times, July 19th, 1796)
Not all notices were for pets.  The unfortunate Cripple in this advertisement from the 1746London Daily Advertiser was clearly a guard dog (but not rabid, just mad, probably because of his deformities and possibly cruel treatment):
Whereas a mad Dog has been missing ever since Sunday Night last, from Ivy-Lane, Newgate-Street, which said Dog snarls at the Name of Cripple, and is remarkable for having Wall Eyes, and a great bend in his Back; so this is to forewarn all Passengers passing through Cheapside to take Care they are not bit, knowing he is lurking about the said place.
In July 1800, the Albion and Evening Advertiser carried the extensive case of Atkinson vs. Day, fought over one Caeser, or Charley, depending on which side one believed:
The plaintiff in this action (Atkinson), it appeared, had a bull-dog called Caesar, which was puppied in his premises, which he reared from its infancy, and of which he was very fond.  In November last, he lost this dog; he made enquiries after him, and for a long time, without success.  In May last, however, one of his servants happened to go into a cook's-shop about Moorfields, belonging to the defendant, to have a bason of soup; he then conceived that he saw the long lost and much lamented Caesar.  He claimed him; the defendant refused to give him up….The defence was, that if Mr Atkinson ever had such a dog as the one in questions, it was impossible that he could ever have had this dog, because it would be proved that this dog, called Charles, was the offspring of the Lover of Smut (best dog name ever? best name ever?), who belonged to a costermonger, otherwise a man who calls apples and vegetables about the street, and of Rose, who was the property of a lamplighter; that Charley was puppied in the premises of Moor, a horse-boiler; that he was one of six puppies, the produce of Rose; that these six were divided among the horse-boiler, the lamplighter, the lamplighter's wife, Faulkner, the costermonger, a man who drives a cart and another lamplighter called Fisher; that Charley had fallen to the lot of Faulkner, who had brought him up from his infancy, and that he had sold him to Mr Day, the defendant, for one guinea.
This goes on, and on, with both sides calling almost a dozen witnesses to prove their ownership of the dog.  A slip on behalf of one of those testifying reveals that he thought Mr Day purchased the dog from Charley 'the milk-man from over the water'.  As it was common for dogs to be named after their owners, the judge deemed that Charley had in fact come from the milk-man, whose round included the Atkinson property.  The dog was returned to the Atkinsons, and I'd imagine they bought their milk from someone else after that.