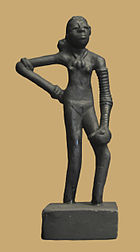 I discovered this dancing girl today while I was researching the history of Indian midwives. She has absolutely nothing to do with Indian midwives, but blind alleys are part of the pleasures of research, and isn't she gorgeous?
She is 4,500 years old and was found, in 1926, in the red rubble of Mohenjo- daro, an archeological site in the province of Sindh, Pakistan. She is 10.3 cm (4.3") high, and there's something splendidly and archetypically  teeny and like I should give a damn about her posture.
In 1973, archaeologist Sir Mortimer Wheeler was similarly smitten by her:
'pouting lips and insolent look in the eyes.   She is about fifteen years old I should think, not more, but she stands there, with bangles all the way up her arm and nothing else on. A girl perfectly, for the moment, perfectly confident of herself and the world. There is nothing like her, I think in the world.'
Reading further, I discovered that the dancing girl, for all her impious nakedness, lived in one of the most advanced urban settlements in the world, Mohenjo- daro, built  around 2600BCE and abandoned in the 19th Century BCE, (population around 35,000) not only produced the most exquisitely crafted jewelry, gold artifacts and sculptures, but had a drainage and re-cycling system that many modern cities today would envy.
Our tiny dancer would, most likely, have lived in a house of mortared brick in a city organized around a market place, and, as she sashayed down the road for rehearsal or performance, she would have passed streets lined with covered brick sewage channels, with manhole covers at intervals for clearing them.
I think she would be no stranger to the bath. If she was poor, she would have used a public bath designed to house 5,000 citizens, and if parents were well off, inside their house sewage would have flowed from the bathroom via earthenware pipes into a system shrewdly  organized so that rain water and sewage from the houses did not flow into the street, but were channeled into separate and carefully situated sump or cess-pits.  When the cess-pit was three quarters full, the water disappeared down main drains which emptied into soak pits away from the town.
Hard to imagine this girl as a dab hand with the housework, but her women and servants of Mohenjo- daro would have had the benefit of neat design in their kitchens too. In Mohenjo- daro, garbage was taken through chutes built into houses, and went straight into brick bins outside, which makes our  British recycling (pink plastic bags for paper, purple for tins), thought up by some bright spark 4,500 years later, look distinctly retrograde.
This, remarkable concern for sanitation apparently, made it the cleanest city in the prehistoric world, and one of the best protected.
I doubt our dancer would have been allowed out unescorted,  but if she was, she would, as she bounced and skipped her way along the streets, have been well protected  by numerous  police check points, situated in small  kiosks on the corners of major thoroughfares, and beyond that, a city well fortified by guard towers all around it.
I enjoyed my side trip to Mohenjo- daro; nice place to grow up, it sounds.
It made me want to know what happened to her next: how she trained; how she courted, got married, had babies, which brings me back to my original task of finding the village midwife.  I'll update you on this when I find her.