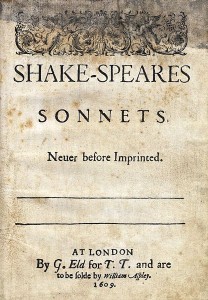 It is fortunate we have these miraculous sonnets at all, as only thirteen copies remain of their original publication in 1609. The writing of them, the subject of them and the unexpected bisexuality of them (incomprehensible to some) remain much disputed more than four hundred years after that date.  Here is something about them and how I was able to spend some of the most miraculous moments of my writing career with one of the remaining copies from that printing.
I first bought Shakespeare's sonnets in a very small blue book at his birthplace in Stratford-on-Avon. For some time I carried it in my pocket or handbag, and read them on the New York City subway going to and from work. At that time I was writing Elizabethan novels and wrote one about Shakespeare called The Players which told a fictional version of the love triangle and another called Nicholas Cooke which also deals with it; they were published by W.W. Norton.
Three major questions remain to us: (1) Who was the so called-dark lady in the sonnets and who was the dazzling young man (2) How did these seemingly private sonnets come to be published and (3) What happened to the rest of the copies?
Popular choices for the Dark Lady (so called because of her dark hair and dusky skin) have been Mary Fitton (a promiscuous lady-in-waiting who evoked the wrath of her mistress Queen Elizabeth) or Emilia Bassano Lanier from the well-known family of Italian musicians popular in the musical Elizabethan court (as claimed by Dr. A.L. Rowse). Dr. Duncan Salkeld claims the Dark Lady may have been a notorious prostitute called 'Lucy Negro' or 'Black Luce' who ran a brothel in Clerkenwell, London. And Dr Aubrey Burl, a fellow of the Society of Antiquaries, now believes she can be revealed as Aline Florio, the wife of an Italian translator. Indeed, with a period of six months, two different London newspapers ran articles about the last two scholars with headlines saying the identity of the lady was revealed at last!
There have been many attempts to identify the young man. Shakespeare's one-time patron, Henry Wriothesley, 3rd Earl of Southampton is commonly suggested, although Shakespeare's later patron, William Herbert, 3rd Earl of Pembroke, has also been put forth as a possibility. Now we know that William Herbert became involved with Mary Fitton but if the sonnets were composed between 1592 and 1598, William Herbert would have only been twelve when they were begun!
And then why do only thirteen copies survive? Some people think they were suppressed, that they were published without Shakespeare's consent and proved embarrassing to poet, dark lady and the fair youth who was a member of the high nobility.
But unfortunately unless some letter hidden away these four hundred years surfaces, we shall not be able to prove the absolute truth. It is an awful pity that most people in those days did not keep letters but often used them to line pie tins (oh the thought of a letter from WS baking away beneath a fragrant kidney pie with bay leaves!). There is hope of course: all sorts of things surface after centuries, found in attics, cupboards, church records, slipped inside other books.
Several years ago, I was able to study one of the thirteen extant copies of the 1609 printing at the Yale Beinecke Library in 1998.
I boarded the train from New York to New Haven, Connecticut where I was greeted by the curator Stephen Parks. He took me to the white-clapboard "Lizzie" (Elizabethan) Club founded by a Yale alumnus in the early twentieth century as a place for undergraduates and faculty to meet, take tea, study, and discuss art and literature.
Panels hid a vault with two-feet thick walls of concrete; inside were shelved an amazing Elizabethan collection, including the first four Shakespeare Folios, one of the three known copies of the 1604 Hamlet, and the copy of Ben Jonson's Works (1616) inscribed by the author to his friend and…one of the 13 extant copies of the 1609 edition of the Sonnets.
The little book was rebound in soft green leather tooled with gold and so slender of width that on the binding the tiniest letters had been used to label it: Shakespeare's sonnets London 1609. And then I was taken to a large reading room where for two miraculous hours, I sat with these poems. The paper of the volume was rough-textured, the printing uneven – now and then, a letter was missing. The shadow of the type on the other side of the page wept through at times. I noted the yellow marks of foxing and a small burn mark on the second sonnet from the spark of fire or candlelight. The printing on the dedication page sloped downward.
The ownership of this copy remained in darkness for 119 years after publication, its first appearance in recorded history being 1728. And as I sat there, I thought, could this copy have belonged to Shakespeare himself?  Even if the writer from Stratford was a mere poet and the fair youth nobility, Shakespeare could write in Sonnet 81:
You still shall live, such virtue hath my pen,
Where breath most breathes, even in the mouths of men.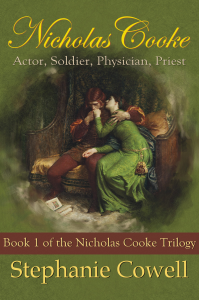 This is the value of great art, though the actual circumstances of its genesis may be waiting for us to discover in some old wood box, behind a wall panel, tucked in a commonplace book in the deserted balcony of a library. Where and when shall it be?
______________
About the author: Historical novelist Stephanie Cowell is the author of Nicholas Cooke, The Physician of London, The Players: a novel of the young Shakespeare, Marrying Mozart and Claude & Camille: a novel of Monet. She is the recipient of the American Book Award. Her work has been translated into nine languages. Stephanie is finishing a novel on the love story of Elizabeth Barrett and Robert Browning. Her website is http://www.stephaniecowell.com