by Tracy Barrett (W&M Contributor)
Nonfiction was my first love in writing for younger readers. I had published seven nonfiction books—mostly American history and biography—before my first novel came out, and since then I've published three more.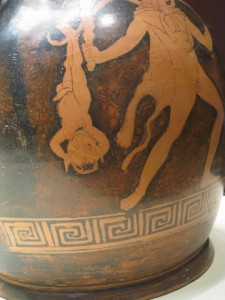 A vase in the Getty Villa in Malibu was the inspiration for my current project. It shows a scene from a myth that must have been familiar to people viewing it at the time it was made, but was new to me. (There's a similar vase in Spain's National Archaeological Museum in Madrid.) It shows Herakles (identifiable by his size and lion-skin) with a pole over his shoulder, from either end of which dangles, upside-down, an odd-looking small man.
It turns out that the myth is a very funny one (and too long to recount here) and it got me curious about  other myths that I wasn't familiar with. In the process of tracking them down, I've found a lot of bizarre and contradictory tales, strange critters, and many, many unhappy love stories. It appears that in ancient Greece, falling in love led to death as swiftly as it did for women who had the misfortune to catch the eye of Captain Kirk.
Here's one tidbit that surprised me: Did you know how many kinds of nymphs there were? I thought that once you had mentioned naiads (water nymphs) and dryads (tree nymphs), that was pretty much it. But no. Here's a very abbreviated list of nymphs (names are in the singular) and what each is associated with:
alseid: sacred groves
anthousa: flowers
aura: breezes
dryad: forests
epimeliad: flocks of sheep and goats
hamadryad: oak and poplar trees
leimakis: meadows
limniad: lakes, marshes, swamps
naiad: fresh water
napaea: valleys
nereid: Mediterranean Sea
oceanid: oceans
oreiad or oread: mountains
potameid: rivers
There are lots more. Each kind of tree has its own type of nymph, for example.
As I often do here, I'm asking for your help. Do you have any favorite Greek myths that most people don't know about? My rule of thumb is that if it's mentioned by Edith Hamilton, it's too well known. Thanks in advance!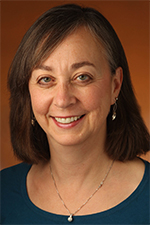 Tracy Barrett is the author of numerous books for young readers, most recently Dark of the Moon (Harcourt) and The Sherlock Files series (Henry Holt). She lives in Nashville, TN, where until last spring she taught Italian, Humanities, and Women's Studies at Vanderbilt University. Visit her website and her blog.