By Julia Gregson (W&M Contributor)
My next book is partly to do with a group of intrepid young women, both English and Indian, who became midwives and health educators in India after Independence in 1947.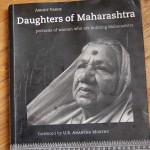 It's never easy to track down exactly what starts a book off in your mind, but I do know that in the case of my next book, one of its seeds came from a gem of a book which I bought four years ago whilst researching East of the Sun.  I plucked it from a dusty pile on a street stall. It's called The Women of Maharashtra and is a portrait of some of India's most exceptional women. A fierce and feisty lot they look, too.
Reading it again made me realise what a trap it is to generalise about Indian women, so often characterised as submissive, feminine and downtrodden. While the usual shock-horror stories about suttee, child brides and dowry deaths make good fiction, they are by no means the whole story. This old book of photographs celebrates between its battered covers the Indian women of the 40s, 50s and 60s who became airline pilots, judges, film directors, communist activists and school teachers.
They were well-educated, most eschewed arranged marriages and many had fathers who supported education. Some even went to prison for their beliefs.
Take Durga Bhagwat, for example: one of India's most acclaimed scholars. Named after the angry goddess, she demanded to go to school, and when her family refused just turned up and demanded to be taught. Eventually her grandfather conceded. "Let the pest go to school", he said. Once there, she soaked up the learning she'd craved and would even bang her head against the wall to toughen herself up. She needed this toughness in later life: during the 1975 emergency she was a fearless critic of Indira Gandhi's policies and was imprisoned for several months.
Nalini Ladhake was another formidable Indian woman. Born in a wandering tribe to a traditionally-minded mother and a progressive, she studied, became a teacher and, horrifying her mother, married outside caste and community. She became an activist, social worker and educator.
Beware of the Bollywood Bunkum version of history too, I guess.