By Julia Gregson (W&M Contributor)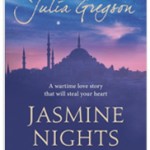 It's almost impossible to unravel the exact DNA of a book, but I can pinpoint the exact moment when one of the seeds was planted for Jasmine Nights,my book about a fighter pilot and the young ENSA singer he falls in love with.
It was the night before Christmas – a snowy night almost 20 years ago – and my father came to me with a poem in a bucket. My father was a Battle of Britain pilot, who was shot down three times before he was 23. He was badly burned, but kept on flying because it was his passion, as was poetry.
Years later, when he retired, he went up to his study one night and wrote a 5,000 word poem, The Summer of The Firebird, which described  the third time he was shot down, when he'd hung, burning, in a tree in the middle of a deserted stretch of countryside. The poem records the sight of his fingers melting like wax, the sound of a bird singing merrily in the next tree, and finally a parade of thoughts: sorrow for friends who'd died; for a young wife left behind in London; for the German he'd shot down and in whose pocket were two tickets for the theatre that night in Berlin.
I knew nothing of any of this until he and my mother came to stay with us that Christmas in 1992, when he brought the poem with him in a brown paper bag and in a bucket.  When he said he was going to take the poem to the BBC, I feared for him, imagining trendy young men in glasses mocking the frail, elderly man he'd become.
They didn't. There was a Christmas party on; but a female producer stepped from the crush, gave him a glass of hot wine, read the poem on the spot and said, 'We'll do it!' Later, a wonderful actor, Martin Jarvis, spoke the words. They played 'Stravinsky's Firebird' behind it.
Listening to that poem was, for me, a shattering experience.  Why had we never talked of this? How could I not have known? Would a son have asked more questions?
Although Jasmine Nights is set in Cairo and Turkey, and is about many things, it has echoes of that poem. Dom, the young fighter pilot in Jasmine Nights is definitely his own man, but some of my father's passion, his gentleness, are there. It was my way of understanding my father better.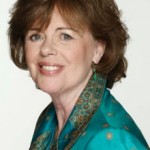 About the Author: Julia Gregson has worked as a journalist and foreign correspondent in the U.K., Australia and the U.S. Her novel East of the Sun was a major bestseller in the U.K. and won the Romantic Novel of the Year Prize and the Le Prince Maurice Prize. Her short stories have been published in collections and magazines and read on the radio. Her latest novel, Jasmine Nights, is set in London, Cairo and Turkey.