By Karen Abbott (Regular Contributor)
A Great Assemblage of Hucksters
During the first few weeks of April 1861, even before the smoke of Fort Sumter had faded, the greatest assemblage of hucksters in the nation's young history began hawking an eclectic variety of wares. The mid-19th century, with its rapid proliferation of daily newspapers and the penny press, marked the first time people recognized the opportunity to commercialize a war effort and to infuse patriotism with the spirit of consumerism.  Advertisements were typically more imaginative than true. While many inventors and pitchmen genuinely hoped to improve soldiers' comfort and convenience, others took advantage of an unsophisticated public caught up in jingoistic fervor. Thus, a strange sampling of goods and gadgets became available to both soldiers on the front lines and those cheering them on.
Goods & Gadgets: A Sampling
• A number of products promised to ease the hardship and privations of camp life. If a solider could handle the extra 15 pounds he might carry Milligan's Patent Mess Kettle, complete with its 18 cooking utensils. There was also Strong's Patent Army Trunk and Portable Bedstead, one of many brands of a combination folding cot, lounge, and camp chair that could be neatly collapsed into a two-foot bundle. John Wheeley Lea and William Henry Perrins, the men behind Lea & Perrins Worcestershire Sauce, hoped to make their product a staple at camps by vowing it would "add greatly to the health of the soldier!" The makers of Dr. Holloway's Ointment promoted their product's ability to heal everything from smallpox to saber cuts to gunshot wounds. Soldiers seeking a temporary escape partook of "hasheesh candy," 25 cents per piece or $1 per box, which purported to be "a most wonderful Medicinal Agent for the cure of Nervousness, Weakness, Melancholy, Confusion of thoughts, etc. Under its influence all classes seem to gather new inspiration and energy."
• During the long stretches of downtime, soldiers entertained themselves by listening to "Army Musical Boxes," advertised as a "Cheerful Companion for the Soldier." Union playing cards featured flags, stars, shields, and eagles for suits, and a colonel, a goddess of liberty, and a major for king, queen, and jack. Writing desks were available everywhere (Union soldiers had a choice of "McClellan" or "Stanton" writing desks, named after the general and the secretary of war, respectively), each consisting of a piece of hardboard and a packet of supplies. One popular choice was the Union Prize Stationary package, which came with a dozen envelopes, paper, a pen holder, two steel pens, one pencil, a sheet of blotting paper, 75 recipes for camp cooking, and a picture of General George McClellan. Soldiers could also buy counterfeit Confederate money for use in the South, paying just $5 for $20,000.
• Fencing instructors became ubiquitous, offering lessons on fighting with swords and bayonets. One weapons manufacturer introduced a handy saber with a pistol built into the hilt. In 1862 Richard Gatling, the son of a North Carolina planter, invented the "Gatling gun," a forerunner of the modern machine gun. It was a repeating gun with six barrels arranged in a circle, and was fired by turning a crank that made the barrels rotate. As a barrel reached a certain spot on the gun, a cartridge was automatically loaded and discharged. By rapidly turning the crank, the operator could fire many rounds in a short period of time. (The Union Army bought Gatling's gun, added an additional four barrels, and used it on a limited basis during the Civil War.) Naval officers bought P. Getz's Patented Waterproof and Life Preserving Trunk, which could support 250 pounds—a convenient device to have handy during any maritime mishap. For the more reluctant soldier, the Police Gazette offered pamphlets entitled "How to Get a Discharge" and "How to Get a Furlough," both for the bargain price of ten cents.
• Anyone curious about what George McClellan, Stonewall Jackson, Robert E. Lee, and Irvin McDowell looked like could purchase cartes de visite, small, pocket-sized photos usually sold in packets of eight for $1. Pictures of the "Heroes of Gettysburg" were on sale in New York by July 9, 1863, not even a week after the battle.
• When it was finally over, women doused themselves with "Union Bouquet Pefume," just 25 cents per bottle, and watched the boys come marching home.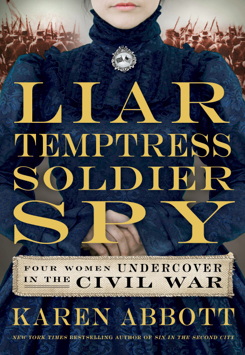 Karen Abbott is the New York Times bestselling author of Sin in the Second City and American Rose. Her next book, Liar, Temptress, Soldier, Spy, a true story of four female Civil War spies, will be published by HarperCollins in 2014.
Sources: "The Civil War Was a Pitchman's Paradise," by Frederic S. Klein. Civil War Times Illustrated
, June 1963; David B. Sachsman, S.      Kittrell Rushing, Debra Reddin Van Tuyll, The Civil War and the Press. New Brunswick, NJ: Transaction Publishers, 2000; Michael Varhola, Life in Civil War America. Cincinnati, Ohio: Family Tree Books, 2011.