by Stephanie Cowell
There are powerful queens (Elizabeth I, Cleopatra, Catherine de Medici, Isabelle of Castile, Eleanor of Aquitaine) or queen victims of kings and minis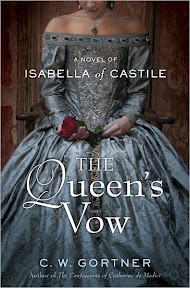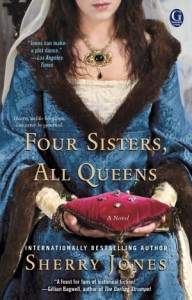 ters (Mad Joana, Caroline, Anne Boleyn, Catherine Howard). They often have a great deal of money, fantastic dresses and jewels, and the adoration of the multitudes.
Imagine never having to buckle your own shoe or sandal, sixteen attendants lounging around (and never a moment's privacy) and 5000 dresses in the wardrobe (Good Queen Bess!) It is a great life except for having your head cut off, or having your best friend conspire against your life or being divorced for barrenness. It is an adventurous life to read about after a day of laundry, children or the demands of an office….but there was certainly no job security.
Since I wrote the first part of this article a few months back, many new novels about queens have taken their place on bookshelves. Hilary Mantel's novel about Anne Boleyn Bring Up the Bodies has been published to spectacular reviews and my friend C.W. Gortner has triumphed once again with making a sympathetic human being out of the Isabelle who sponsored Columbus in The Queen's Vow.)
Of Anne Boleyn, Mantel writes that "she seems to embody nightmare: she's the seductress, the poisoner, the woman who makes her man impotent with one poisoned glance." And I always felt she was a victim!
I asked prolific novelist Michelle Moran about why we love to read and write about Queens. She commented, She says, "Personally, I like to read about queens who had to overcome great obstacles to either achieve power or remain in power. What made them different? Often it began with their birth. But not always. Gosh, so many great subjects and so much material still left to mine!" She, like several other fine novelists, is drawn back two thousand years to Cleopatra but her upcoming novel is about Napoleon's second wife whom he married when poor Josephine proved barren. It's called The Second Empress: A Novel of Napoleon's Court.
Christy English, author of two novels about Eleanor of Aquitaine (To be Queen and The Queen's Pawn) told me, "The queens of the past show us what is possible in an imperfect world. Women like Eleanor of Aquitaine defy the odds in their lifetimes, opening doors that should remain closed, fighting battles that seemingly cannot be won, and yet, they win them. This is why queens are so inspiring to me."
Eva Stachniak tackled the most fascinating Empress of all in her novel The Winter Palace: A Novel of Catherine the Great. She said, "Those with trappings of power attract us perhaps the same way actresses do. We think of their lives as filled with glamour. Sometimes we are right, and sometimes the real women locked in the golden cages are truly unhappy. Again, not unlike the heroines of the silver screen. Even Catherine the Great had to face some limitations. An unwanted pregnancy stopped her from assuming power at once. She could not command troops in battle." (Indeed!)
Anne Easter Smith, author of Queen by Right, adds, "If readers have noticed, most novelists choose to write about queens with chutzpah or those who have a tragic story to tell. I have never read a novel about Caroline of Ansbach, Mary of Modena, Anne of Denmark, or Caroline of Brunswick. Dare I say that in today's market, editors are looking for those marquee names to sell a book, and that's why you get three thousand novels about Anne Boleyn or Mary, Queen of Scots?"
The gifted Sherry Jones has written a poetic novel called Four Sisters: All Queens. Four queens in one novel! I had to look at it! And when I e-mailed her, she was kind enough to answer my question: Why do we love to write and read about queens?
Sherry said, "We love books about Queens because, deep down inside, we all want to be one. What's not to covet? A fabulous wardrobe; servants taking care of your every need; every meal a gourmet feast; pomp and ceremony; celebrity status; respect and honor; the chance, perhaps to make a positive difference in the world. These women's stories inspire us as women to strive for our own highest potential, to claim our own power – they remind us that we are all, truly, Queens."
Does anyone have another Queen to suggest as a subject for a novel? Comment below! I have mine and am making notes here and there, but alas! she was fat, dumpy, over fifty and more into meddling in the marriages of her children than ruling. Guess who!
__________________
About the author: Historical novelist Stephanie Cowell is the author of Nicholas Cooke, The Physician of London, The Players: a novel of the young Shakespeare, Marrying Mozart and Claude & Camille: a novel of Monet. She is a recipient of an American Book Award. Her work has been translated into nine languages. Her website is http://www.stephaniecowell.com.