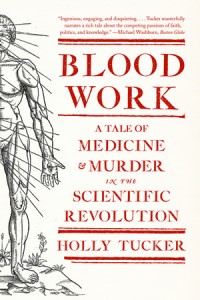 Time to celebrate!  The paperback of Blood Work: A Tale of Medicine and Murder in the Scientific Revolution is now out in paperback.  And with a fancy new cover to boot!
My wonderful publisher, W.W. Norton, is offering up giveaway copies through Wonders & Marvels, Twitter, and Good Reads.  Details below.  Note: copies can be sent only within the US.
Signed copy anyone?  
Parnassus Books, Ann Patchett's beloved local bookstore in my hometown, can ship signed or personalized copies. Just shoot them an email to make arrangements.  (Nashville folks, I'm doing an event there Wednesday night, May 23.  See you there?)
Blood Work is a fantastic gift for friends/family members who love page-turning murder mysteries and narrative history. Recently, I've been signing lots of copies as gifts for doctors, medical students, and pre-meds too.
So back to those GIVEAWAY COPIES:
To enter via Twitter:  Simply retweet one of my @history_geek tweets this week about Blood Work or tweet something else about the book.  Be sure to include @history_geek in the tweet so I see it.  Once a day at 4pm CST, I'll announce a winner selected at random. You can enter up to 5 times for each daily giveaway…and remember it's most helpful to tweet at different times of the day!
To enter via Good Reads:  Between May 21-25, W.W. Norton is doing a big giveaway at Good Reads.  Just head here to enter.
To enter via Wonders & Marvels: Easy as pie!  Leave a comment on this post with a question about the book, writerly experiences, or anything you're curious about AND/OR one thing you'd be happy to do or have done to help spread the word about the paperback release.
On Friday, I'll select the winners at random and announce them here.  Some ideas of what you can do to help get the word out:
Post something on your own blog about Blood Work  (I'll collect the URL's and give some W&M blog love later in the week)
Send emails to friends to tell them about the book and this giveaway
Call your local bookstore to make sure they're stocking the book
Order a signed/personalized copy of Blood Work from Parnassus Books (while entering to win a copy for a friend)
Talk your book group into reading Blood Work for an upcoming meeting (I love doing Skype chats with book groups, by the way.)
Good luck!  But especially, THANK YOU for reading!
All my best,
Holly