Somewhere in the library of Drexel University in Philadelphia a portrait hangs. It depicts a reasonably young, reasonably handsome man of apparently good humor and warmth — Thomas Say, noted American entomologist and conchologist. Of course portraitists can famously commit all manner of falsehoods in the name of pleasing their clients, and it's entirely possible that Thomas was not half as kind and warm a man as his portrait might imply.
But his portrait, as well as the story of his singular personal and professional life, does make a powerful argument that he was at least an interesting one.
The library director at Drexel, in whose office Thomas hangs, is on record as saying that this portrait is the "most handsome depiction of the most handsome 19th century man" she's ever seen.
Well. I know a few people who might contest that distinction. But let's not get bogged down in what can only in the end be a purely subjective debate about who had the handsomest eyes in the 19th century. Fascinating though this debate may be.
While Thomas Say's latter-day designation as a 19th century hottie may be what catches the eye, the man's actual career is fascinating enough in its own right. Already a successful and highly respected natural scientist by the age of 25, Say was a founding member of the Academy of Natural Sciences in Philadelphia. He formed lasting friendships with many of the most respected and prolific scientists of the day, each of whom it seems can lay claim to being the "Father of American" this or that. Auspicious company, indeed.
And it was in some of this auspicious company that Say travelled to Indiana in 1826 on the delightfully named "Boatload of Knowledge," a gang of top scientists headed for the utopian community of New Harmony that was then in its heyday of attracting the best minds of the young republic.
The heyday didn't last long, as is so often the way with utopian societies. But Thomas met his future wife, Lucy Sistare, on the aforementioned Boatload of Knowledge. Lucy was herself a gifted illustrator of the natural sciences, and would in fact go on to be the first woman elected to the Academy of Natural Sciences. Her own thoughts on her husband's relative attractiveness have not been recorded, though perhaps they can be reliably inferred.
While New Harmony was dissolved as early as 1829 — only four years after its founding — due to the usual squabbles that tend to accompany experiments in community living, its reputation as a home for intellectual inquiry apparently lived on. Say stayed on in New Harmony until his death in 1834, after a highly productive career detailing the insects, mollusks, and other beasts of North America. His affinity for an austere manner of living evidently never paled, and he stayed on in his rustic New Harmony cabin, presumably attended to loyally by his devoted Lucy, for the rest of his life.
New Harmony continued to attract and nurture men of a strong scientific bent, including David Owen, a son of the settlement's founder Robert Owen, who went on the become the state geologist for several states. Another Owen son would be the state geologist of Indiana and served as the first president of Purdue University. Yet another son would serve in the House of Representatives, eventually introducing the bill that established the Smithsonian Institution.
The attractiveness of the sons of Robert Owen, and the alleged loveliness of their eyes, has not been recorded for posterity.
A final side note on the illustrious town of New Harmony and its powerful attraction for those of powerful intellect: Eminent 20th century theologian Paul Tillich is buried here, for no apparent reason other than he once spent some time there and felt an affinity with the place. Clearly, there's something about New Harmony that continues to resonate with the music of the spheres, or at least with those who spend so much of their time listening and humming along.
Tillich was, of course, noted for having very fine eyes indeed.
Not really. I made that up. But he was a pretty good jumper.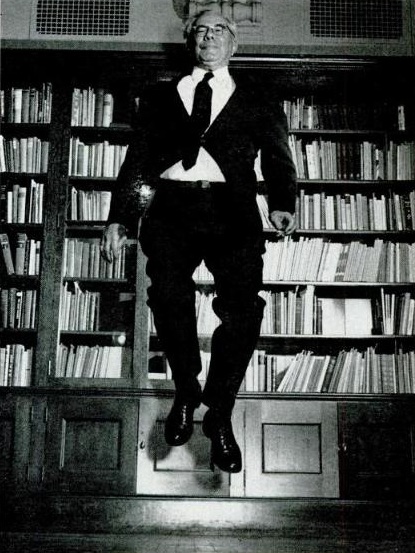 Beth Dunn is a novelist, blogger, and geek. She writes at An Accomplished Young Lady and is unshakably loyal to Robert Cornelius as having the finest eyes of the 19th century.
By the way, the portrait above of Thomas Say is not the one that hangs in the library. That one's here. I just like this one better, that's all.
Read more about the Boatload of Knowledge (PDF download of a highly readable scholarly article from the Ohio Journal of Science). It's a pretty remarkable story.