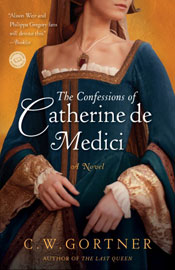 by Stephanie Cowell
Do readers never tire of reading about queens? What is the great fascination?
I decided to ask some novelists, readers, bloggers, and experts.
I met Sarah Johnson, the author of Historical Fiction II: A Guide to the Genre and compiler of the blog Reading the Past (http://www.readingthepast.com), at the semi-annual Historical Novel Society U.S. conference. She told me, "It's safe to say that the fascination for such novels has been ongoing for some time. Dumas was writing novels about Marguerite de Valois and Marie Antoinette in the 1840s and '50s, for instance, and he wasn't the first. The trend comes and goes, and now it's firmly on the upswing with novelists such as Jean Plaidy, Norah Lofts, Margaret George, and Philippa Gregory and many gifted others." (Sarah believes perhaps a few dozen such novels were published in 2011.)
But why do we want to read about queens? Sandra Gulland, author of the magical trilogy about Josephine Bonaparte (the empress) and Mistress of the Sun (mistress of Louis XIV), answered, "I think we simply are hungry for stories of women in a position of power, because it's so rare. Some handle it gracefully (i.e. Josephine Bonaparte), and others wilt in the harsh glare of such light (Louise de la Vallière)." Sarah Johnson replied, "The majority of novels about queens take place in eras (12th through 18th centuries) when women had little say in the major decisions affecting their lives, but most queens, whether they were rulers themselves or consorts, had a wide sphere of influence. Plus, these women were served the finest cuisine, wore the most expensive gowns, had the most talented artists and musicians around them… and readers love descriptions of court life. (This is assuming the queens didn't end up in the Tower or its international equivalent!")
Novelist C.W. (Christopher) Gortner told me, "I think we are fascinated both by the queens' celebrity appeal as well as their fragility. Their lives, while outwardly glamorous, were full of trials and tribulations, tragedies and triumphs: we know that they struggled to survive. Their fragility and courage exert a powerful effect on our imaginations. The issues they faced were monumental."
He added, "I first became enamoured of historical fiction in my pre-adolescent years, when my mother gave me a copy of Immortal Queen, a novel about Mary of Scots, for my birthday. We lived in southern Spain; a ruined castle that had once belonged to Isabella of Castile sat near the beach by our flat and I used to clamber about its crumpled battlements all the time. I was surrounded by history. It made me an addict for life." Christopher's new novel, The Queen's Vow, which follows young Isabella of Castile in her dramatic rise to power, will be available on June 12, 2012. He is also continuing his Tudor mystery series.
Finally, I simply had to this burning question: Can anything else possibly be said about Anne Boleyn?
"I'll say yes," replied Sarah Johnson, "because I know we haven't seen the last of Anne in historical fiction! I'm anxious to read Hilary Mantel's take on her downfall, for example. Every author brings a new angle on her life to the table, or at least tries to." And Christopher Gortner added, "Anne Boleyn went for the crown and she got it. And it destroyed her. But she did it anyway. She's tough to beat, in terms of sheer drama and pathos. "
Christopher concluded, "I often say that in the hands of a skilled novelist, these women can shed their marblized images and reclaim their humanity, in all their glory and foibles. Historical fiction about queens shouldn't really be just about queens; it's about us, too, about how we live and make choices and confront challenges. These women represent us – with more lavish clothes!"
Come back for the second part of this article featuring book bloggers and more novelists.
Ah to live like a queen! If not then, to read about them!
Historical novelist Stephanie Cowell is the author of Nicholas Cooke, The Physician of London, The Players: a novel of the young Shakespeare, Marrying Mozart and Claude & Camille: a novel of Monet. She is the recipient of the American Book Award. Her work has been translated into nine languages. Her website is http://www.stephaniecowell.com.