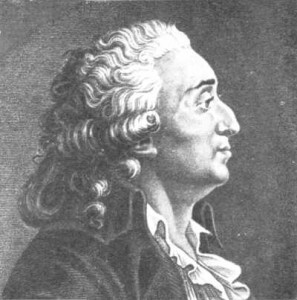 By Elizabeth Fix (Vanderbilt University)
From Harry Potter and the Sorcerer's Stone to Spaniard Ponce de Leon's search for the Fountain on Youth in North America, there are many fantastical legends we've heard of regarding the prolongation and rejuvenation of life. However, the concept of living forever was once founded upon actual medical and scientific thought.  Theories to extend one's lifespan began rather simply with Luigi Cornaro's Discorsi della vita sobri, which advocated a healthy diet and all behaviors in moderation as a means to live longer.
These theories grew increasingly radical with the onset of the Enlightenment.  In the seventeenth century, Rene Descartes became obsessed with the concept of using medicine to prevent aging. He states, "I believe it may be possible to find many very sound precepts for the cure of diseases and for their prevention and also even for the retardation of aging," and he looked forward to reaping the results of his hard work later in life.  Unfortunately, if somewhat ironically, his efforts were cut short by his untimely death at the age of 54.  In 1795, Condorcet published the most radical idea of all. He believed that society was constantly evolving and that "the day will come when death will be due only to extraordinary accidents."  He believed that better living conditions, inheritance of superior genes, and more comprehensive medicine were the keys to living forever.
Although his ideas were radical, he planted the seeds of associating longevity with social improvement.  The work of Descartes, Condorcet, and others, stressed increased longevity as one of the pinnacles of contemporary medicine.  Of course, the social implications of people living longer and causing overpopulation could not be denied.  Thomas Malthus challenged these thinkers' theories, claiming that not only was an immortal utopia impossible to achieve, but it was immoral.  He concludes his attack by noting how presumptuous of Condorcet it was to assume he would be the one to live forever, when countless genius minds had succumbed to death before him. Thus, the Enlightenment quashed rumors of immortality which science had originally propagated.
Source: Gruman, Gerald J. "A History of Ideas About the Prolongation of Life." Transactions of the American Philosophical Society. Vol. 56, Pt. 9. 1966.