by Tracy Barrett, W&M contributor
On Star Trek (and by this, children, I mean the real Star Trek—the one captained by James T. Kirk, and with cheesy special effects and constant violation of the Prime Directive), a lot of strange things happen (I'm referring to the strange things that the producers intended to happen, not the accidental ones). The audience has to understand these strange things to make sense of the story. But there are no footnotes in a television show, and a voice-over to explain what's going on would be even more intrusive than mid-60's hairstyles and encounters with space-hippies.
So how to explain?
Enter Captain Kirk. He's got the smarts to run a spaceship but doesn't know a whole lot about the new lives and new civilizations that he encounters. Luckily, he has Mr. Spock, who patiently explains and theorizes about these mysteries to his captain, and hence to the audience. Kirk isn't stupid—he's just a military man whose interests lie elsewhere.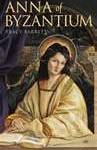 Writers of historical fiction face a similar problem. My Princess Anna of Anna of Byzantium wouldn't think, "Wow, the palace I live in is huge!" But I want my readers to know that it is. Ariadne of Dark of the Moon wouldn't question the human sacrifice that her religion demands every spring. But I want my reader to picture Anna in a huge palace, and Ariadne being a prime player in the sacrifice. So they need someone to explain to: a slave from a distant part of the empire in the first case, Prince Theseus in the second.
It's been said that there are only two plots: A stranger comes to town, and Someone takes a journey (some have said that this is really one plot, but from two points of view). I doubt that this is true, but the device is a common one. I wonder if the need for a stranger in town is so the person whose POV informs the story can either explain things to the stranger or be the one who receives an explanation.