By Kaitlyn Berry (Vanderbilt University)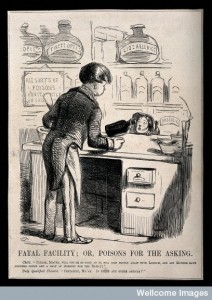 My tender, pretty, smiling babes,
With poison I did slay.
And after that I did cruel take
My husband's life away
This was the chant coming from the crowd of 10,000 that gathered to witness the execution of Sarah Chesham. Chesham, who had a reputation in Essex for her arsenic laced mince pies, was convicted of the homicidal poisoning of her husband in 1849. A few years earlier Chesham had been acquitted for the murder of two of her sons because the arsenic found in their remains could not be traced directly to her. However, it was widely believed that in addition to killing her husband to collect life insurance, Sarah Chesham had murdered her two sons in order to collect burial club money.
In 1849, Rebecca Smith, a middle aged woman with poor health and no money, was convicted and hanged for the murder of her infant son. After the conviction, the bodies of her other nine deceased children were exhumed and traces of arsenic were detected in several of their bodies. Smith later confessed "that she had poisoned her babies, fearing that they might 'come to want'" (Watson 88). Evidently, Smith felt that killing her children was kinder than letting them die slowly of starvation- a common fate of many poverty-stricken children during the decade known as the Hungry Forties.
These two stories are prime examples of the over one hundred criminal poisoning cases reported during the 1840s. The hopeless economic conditions in England and high unemployment rates in the early forties led to an alarming increase in the number of child poisoning and infanticide cases. Poison, especially arsenic, was incredibly cheap and easy to find because of the lack of drug regulations. It offered women like Rebecca Smith and Sarah Chesham an easy solution to their financial woes that could potentially go undetected.
Sources:
Knelman, Judith. Twisting in the Wind: the Murderess and the English Press. Toronto: Univ. of
Toronto, 1998. Print.
Watson, Katherine. Poisoned Lives: English Poisoners and Their Victims. London: Hambledon
and London, 2004. Print.