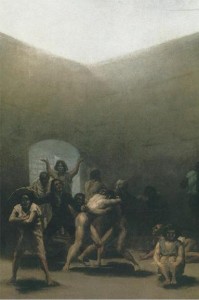 By Nabeela Ahmad (Vanderbilt University)
In 1789, the French National Assembly proposed a radical document, "The Declaration of the Rights of Man and Citizen," which delineated what would later become the basis of the French Constitution. In 1790, the Assembly released several decrees to ensure provisions within the declaration. The following decree provides a startling but insightful glimpse into the state of psychological treatment in Europe during the late eighteenth century:  
Within six weeks of the present decree, all persons detained in castles, religious houses, gaols, police houses or prisons of any other description…unless they have also been sentenced or charged or are awaiting trial for a serious crime, have been stripped of their civil rights, or have been locked up on account of madness, are to be set free.2

Despite its intellectual radicalism, the French Revolution considered the mentally ill on the same plane as common criminals.
Completed by Spanish artist Francisco Goya in 1794, Yard with Lunatics consummately portrays the situation in the above decree. Following an episode of personal mental and physical breakdown, Goya created a set of works he called caprichos, images displaying Spanish cultural spectacles (e.g. bullfights), which he sent to the Royal Academy of Arts of San Fernando.4 The Royal Academicians referred to this series as "various scenes of national diversions." In a rather dark twist, however, Goya followed by sending the Royal Academy Yard with Lunatics as a conclusion to the caprichos. Goya's letters to Bernardo Iriarte, Vice-protector of the Royal Academy during that time, capture how The Yard with Lunatics is dually representational of Goya's inner torment and the outward treatment of the mad during the late eighteenth century.3
In a letter to Iriarte, Goya indicates, "I have managed to make observations for which there is no opportunity in commissioned works which give no scope for fantasy and invention."3  Yard with Lunatics captures a fantastical, yet grotesquely realistic image of desolation. The painting is dark and muted within the courtyard; the bright sunlight at the top does not enter the courtyard. One man in the center seems to be looking upward in desperation.  In a second letter to Iriarte, Goya says the painting " represents a yard with lunatics and two of them fighting completely naked while their warder beats them, and others in sacks; (it is a scene which I saw in Saragossa)."3 Goya's inclusion of Yard with Lunatics within the series of "national diversions," shows, like the French decree, how widely accepted the punitive treatment of the mad and their experience of desolation had become.
Sources:
1. "A Goya Biography." Goya. Museo del Prado, 1961. Web. 17 Nov 2011. <http://www.eeweems.com/goya/1961_prado_bio.html>.
2. Foucault, Michel. History of Madness. Abingdon: Routledge, 2006. Print.
3. Gassier, Pierre and Juliet Wilson. The Life and Complete Work of Francisco Goya. New York:  Reynal & Co., 1971. 109-111.
4. Hilton, Tim. "Something wicked this way comes: Two shows, one of small works by Goya, the other a series of religious paintings by Francisco de Zurbaran, reveal Spain's darkest artists in a new light." Independent 20 Mar 1994. Web. 30
5. "Yard with Lunatics." Graphic. Francisco Goya. 1794. Painting.