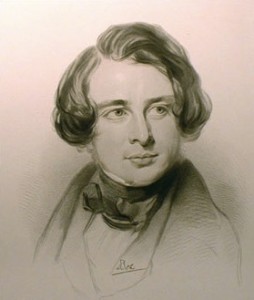 By Beth Dunn
At first glance, the tale of Charles Dickens' rise to fame and fortune would seem to be one of unhalting advances towards the pinnacle of success that he had achieved by the end of his life. But even the mighty Boz suffered from serious doubts about his skills as a novelist, and his ability to support himself purely by the labor of his pen.
And what do writers do when we think the well has run dry?
We panic.
Charles Dickens had already seen early success — and lots of it — as the author of The Pickwick Papers, Oliver Twist, Nicholas Nickleby, The Old Curiosity Shop, A Christmas Carol, and Barnaby Rudge, along with assorted other bits and pieces.
Bleak House, A Tale of Two Cities, Great Expectations, Little Dorrit, and Our Mutual Friend still lay ahead of him, though of course he couldn't know that.
All he knew was that he had a large and constantly growing family to support, and he was suffering increasingly frustrating bouts of writers block. In the midst of writing Dombey and Son (never heard of it? there's a reason for that), Dickens was so uncertain of his future prospects as a novelist that he took on a job he almost certainly knew he would hate from the start — editor in chief of The Daily News.
Oh, sure, he had been an editor and contributor to various journals from time to time. And he had started his writing career as a sort of beat reporter in Parliament, winning the job largely on the merits of his impressive skills at taking notes by shorthand. And he had always been a crusader against what he recognized as the vast social injustices of the day, which the Daily News promised to rail against until Something Was Done.
On paper, it seemed like the perfect fit. The fledgling newspaper's financial backers wanted a prominent editor who would drive up sales and help their new project compete against the very popular — and very right-wing — Morning Chronicle. And Dickens, who was suffering a serious bout of nerves, wanted a steady paycheck.
You know, in case this whole writing thing didn't pan out.
Within a matter of days, he knew he had made a dreadful mistake.
Eventually, he convinced his best friend (John Foster, who did have a background in journalism) to take over as editor. Dickens had almost from the start hated the daily grind of the paper, hated the pressure, hated being pulled in so many different directions by so many competing interests, hated the corruption of the press in general, of which he was now a part.
So he quit, after only a few weeks.
But the experience was not without its upsides.
First, Dickens had realized that his occasional bouts of writers block were largely due to his absence from the city streets of London. He'd been traveling abroad with his family in recent months, and the quiet countryside was doing nothing for his concentration. When he was free to prowl London's dark and sooty streets at night, he was in his element again at last, and he was back to his old prolific self.
Second, he had finally found decent occupation for his father, a bit of an unrepentant sponge and perennial debtor on whom Dickens would later base his Mr. Micawber. John Dickens had been installed as head of the newsroom at the Daily News, and had taken to it, quite to everyone's surprise, extraordinarily well. He showed up, he managed people, he got the job done. It was really quite remarkable, and even his son acknowledged that he'd finally found his niche.
And finally, perhaps most importantly, Charles Dickens had learned the lesson that so many writers have to learn the hard way.
We're just not really fit for much else, when it comes right down to it.
So we had better just get down to it.
Beth Dunn is a novelist, blogger, and geek. She writes at An Accomplished Young Lady, and makes a habit of reading far too much into the life stories of her 19th century literary heroes.