By Stella Duffy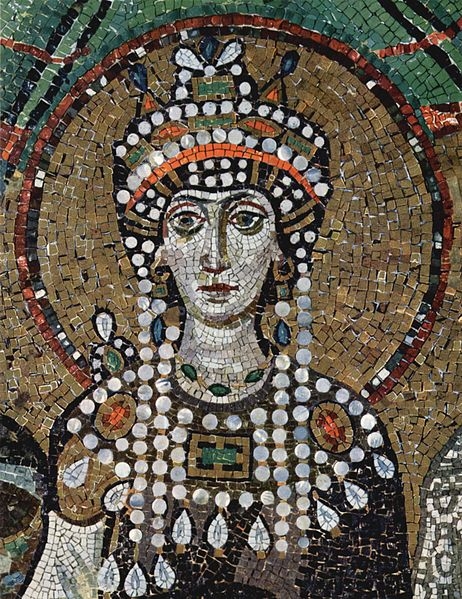 In 527AD Theodora was crowned Empress of Rome in Constantinople. The daughter of a bear-keeper, she had risen from poverty to become the city's most successful comedian and acrobat. At eighteen she ran away with the Governor of the Pentapolis (modern day Libya), and when he broke off their relationship she travelled to Egypt, where she underwent a religious conversion. She was reviled by contemporaneous historian Procopius for her lascivious stage shows, made a saint in the Orthodox Church for her dedication to the faith, and named 'our most pious consort' by her husband, enabling her to rule when he lay ill during the plague pandemic.
This complex woman is immortalised in the mosaics of the Church of San Vitale in Ravenna, Italy – a city she never saw.
Theodora is depicted in full Imperial garb, accompanied by an entourage of prominent women. Scholars offer varying meanings the mosaics; they exhibit the powerful stance taken by both Emperor and Empress in their leadership; the Imperial couple are leading the faithful into the Church (standing opposite each other to symbolise their opposing views in an early Christian schism); and perhaps most intriguingly, that a curtain is held open for Theodora because the mosaic may have been completed after her death, her likeness taken from a death mask.
Whatever the truth behind the imagery, the mosaics are now a UNESCO World Heritage site and we are fortunate to have a glimpse of such an astonishing woman, crafted in her own time.
About the author: Stella Duffy has written twelve novels, eight plays, and over forty short stories. Her novels have twice been longlisted for the Orange Prize and she is a recipient of the Crime Writer's Association Short Story Dagger Award. In addition to her writing work she is an actor and theater director. She lives in London with her wife.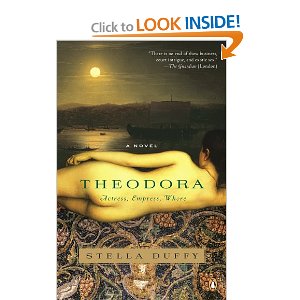 We have five (5) copies of Theodora to giveaway. To enter, simply leave a comment on this post (below). Feel free to answer this question in your comment: What is your favorite book featuring a female character who is either insane or thought to be insane? Sorry, we can only ship winning copies in the US at this time.
Would you like an email notification of other drawings? Sign up for our weekly digest in the sidebar.