By Marri Lynn (W&M Contributor)
It's become a commo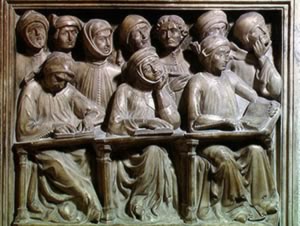 n conceit to think that the disappointing student is a modern invention. Lecture-halls filled with napping students and dull eyes are, we often think, the lamentable but inevitable result of such distractions as Facebook, cell phones, and the devaluation of education for education's sake.
We may take heart – or despair at the persistence of the habits of the errant student — in learning that these complaints are as old as university education itself.
The Franciscan Alvarus Pelagius turned his talent for social critique (honed in penning De planctu ecclesiae libri duo, a prose campaign for curbing ecclesiastical excess) toward his experiences of students, resulting in a short but pointed tract. The university students that Pelagius complained of numbered among a select few afforded the privilege of attending university in the late thirteenth and early fourteenth centuries.
It was a privilege and an historical moment which, according to Pelagius, was completely wasted on them.
These students were opinionated, ignorant partiers who engaged in gambling and drinking with more gusto than they ever applied to their education. If they bothered to go to class, they were merely physically present, letting the words of their educated masters flow in one ear and out the other. The exception to this rule was when "forbidden sciences, amatory discourses, and superstitions" (timeless student favorites) came up in a lecture; these the student would learn avidly, when they should be ignored.
Students skipped church, choosing to "gad about town with fellows." When they did deign to attend church, it was to see girls and exchange stories, not to worship – a fact which seemed to especially displease Pelagius.
Above being merely self-destructive, these students harmed others: When they weren't shirking their spiritual duties or studying amatory discourses, they were busy trying to entangle themselves in the gears of the university administration by forming illicit students' societies and fraternities in order to promote their favorite professors on the basis of personal affection and whim. And, of course, they would take their expense money from parents and spend it in taverns and games, only to eventually flee the university (with outstanding fees), bereft of knowledge, conscience, or money.
Those students of the twenty-first century who do not rise above the lowest common denominator are, at least, keeping a centuries-old tradition alive.
Marri Lynn is a Master's student in the History of Medicine at McGill University, Montreal. You can find out more about her other projects at her About.me page.