By Charles Stephenson

By the second half of the 12th century, great towers were becoming ever more architecturally exuberant. One famous example is the whimsical keep built in the 1160s by King Henry II (1154-89) on the Suffolk coast at Orford. Another is the tower built a decade or so later at Conisbrough by the king's illegitimate brother, Hamelin. Conisbrough had been established soon after the Norman Conquest by William de Warenne. It had come to Hamelin, probably in 1164, by virtue of his marriage to Warenne's great-granddaughter, Isabel, along with the rest of the Warenne inheritance and the title of Earl of Surrey.
Henry's tower at Orford is polygonal, with round rooms on the inside, and is supported on the outside by three great buttressing towers. Hamelin's keep at Conisbrough has similar round rooms and six exterior buttresses, while its exterior is completely cylindrical.
Historians were once inclined to interpret these features as experiments in military science, intended either to deflect missiles or to provide more angles from which to launch them. More recently, Orford has been shown as something altogether different: a playful exercise in geometry. Conisbrough would seem to be a building in much the same mold. Such towers, because of the thickness of their walls, had an inherent resilience, and therefore were of military value. But they were also homes for the super-rich, designed by masons who prized inventiveness for its own sake.
Excerpt from Castles – pages 74-75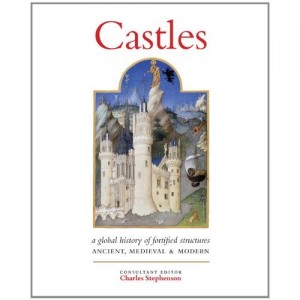 About the author: Consulting editor CHARLES STEPHENSON is a historian and writer, whose recent military titles include: Servant to the King for His Fortifications; Paul Ive and the Practise of Fortification; The Admiral's Secret Weapon; Fortifications of the Channel islands, 1941-45: Hitler's Impregnably Fortress; and The Fortifications of Malta, 1530–1945. He is currently working on a history of the Italo-Ottoman War of 1911–12.