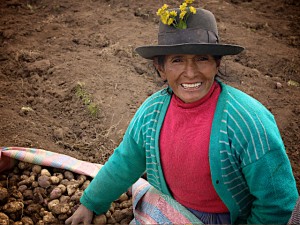 This summer, I spent a few weeks traipsing around Peru, in part to learn more about the agricultural techniques of the Incas. The first two stories from that reporting trip recently appeared, about the ways in which ancient Incan farming practices can help the descendants of the Incas face food insecurity and climate change. The print story was published on the Smithsonian Magazine's website, and a radio story aired on the public radio show The World.
I found this story as I was pulling together ideas for a trip for the radio show I worked for at the time, the World Vision Report (which would also be funding the journey). Then, suddenly, the show was canceled. Still, I remained fascinated by the topics, so I found other interested radio and print venues. In May, I flew off to Peru.
One story in particular grabbed my attention: I read a newspaper article from the 1990s that referenced the work of Cusichaca Trust, a nonprofit founded by British archaeologist Ann Kendall. Kendall and her associates studied Incan agricultural systems in Peru, their terraces, irrigation canals, and systems of planting. And they've been working to bring these systems back to life in the Andes today.
I discovered that the nonprofit had since spun off a local development group, called Cusichaca Andina, and that they were one year into a two-year World Bank grant to fight the effects of climate change. I was struck by the premise that history can help us meet the future.
I'm fascinated by agricultural traditions and history, and the Incas were expert farmers. They had to be; they ruled a gargantuan empire that sprawled over some of the most diverse and at times forbidding ecosystems. And now, hundreds of years later, we're learning that these techniques were significantly more effective in the Andes than anything that has been developed since.
I tagged along with Cusichaca Andina and met development workers, farmers, and construction workers who were rebuilding an ancient irrigation canal. The altitude hit me hard, and the narrow roads that wrapped around the steep mountainside left me breathless with fear. Still, I was able to view first-hand the ways in which local communities are learning from their ancestors. And I ate some mighty tasty potatoes.
About the author: Cynthia Graber is a print and radio reporter who specializes in science, technology, agriculture, and anything else that captures her imagination. Her work has been published/broadcast via a number of venues, including Scientific American, Smithsonian magazine, the Boston Globe Sunday Magazine, The World, Living on Earth, and a variety of children's magazines. She's a recipient of the AAAS Pinnacle of Excellence award for science journalism. You can read more at http://www.cynthiagraber.com.