By David Abulafia
Salonika, now known as Thessaloniki, was one of the great Mediterranean cities in which Jews (forming the majority, and still speaking the Spanish of their ancestors expelled from Spain in 1492), Christians and Muslims lived side by side, but increasing nationalism eventually created powerful tensions between the different communities.
In the 1890s radical Macedonian Slavs, who spoke a form of Bulgarian, organised themselves around the 'Internal Macedonian Revolutionary Organisation' (IMRO), seeking autonomy for the wide swathe of Ottoman provinces between Salonika and Skopje; but they saw Salonika as the obvious capital, and they were intent on giving these lands a Bulgarian cultural identity. This was intolerable to the Greeks of Salonika, who obliged the Turks with information they picked up about the activities of IMRO.
Before long IMRO decided that the time had come for drastic action. In January 1903 IMRO agents acquired a small grocery shop opposite the Ottoman Bank, staffed by a dour Bulgarian who seemed unwilling to sell the exiguous stock he displayed. At night, though, the shop came to life, as an IMRO team burrowed under the road, placing mines under the handsome edifice of the Ottoman Bank. The tunnellers were almost caught, because they had blocked off one of the city sewers that lay across their path, and the Hotel Colombo, nearby, complained that its plumbing had ceased to work. On 28 April they set off their bombs, demolishing the bank and several neighbouring buildings.
About the author: David Abulafia is Professor of Mediterranean History at Cambridge University and the author of The Mediterranean in History.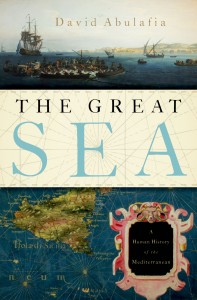 Giveaway is closed.
Would you like an email notification of other drawings? Sign up for our weekly digest in the sidebar.