By Ellen F. Brown
I'm often asked how writers know when their research is finished. This is a question that every writer – fiction or nonfiction – faces. Gone With the Wind author Margaret Mitchell certainly did. I don't think she was ever satisfied that her research was complete. She submitted the GWTW manuscript months late because she insisted on re-checking a seemingly endless list of historical details ranging from what time of day the news arrived of General Hood's defeat to what ladies' shoes were made of during the blockade. She was especially careful with war scenes. Mitchell said she wanted them '"air tight so that no grey bearded vet could rise up to shake his cane at me and say, 'But I know better.' " Even after the manuscript had been submitted and the presses were rolling, the author continued to fact check.
My co-author and I also struggled with this issue when writing our Mitchell biography. There was far more information available than we'd ever imagined – admittedly a good problem to have. I enjoy research and would have been perfectly happy to muck around in the documents indefinitely. But, with a deadline looming , we couldn't keep at it forever. We eventually had to start writing if only to have a sense of how better to define the scope of the research. So, after an initial period focused on fact-finding, the research and writing became parallel projects. They co-existed until the bitter end. Like Mitchell, we were conducting interviews and scouring documents while reviewing page proofs.
To be honest, I'm still researching. Sources continue to send new tidbits of information. And, in the course of work on my next book, I've stumbled across interesting GWTW items I hadn't seen before. So, when does the research end? I suppose it's when the publisher says so. But, for research-loving writers like myself, enough is never enough.
About the author: Ellen F. Brown is an award-winning freelance writer from Richmond, Virginia. Her first book, Margaret Mitchell's Gone With the Wind: A Bestseller's Odyssey from Atlanta to Hollywood, co-authored with John Wiley, Jr., offers a behind-the-scenes look at one of the most popular and controversial novels in publishing history.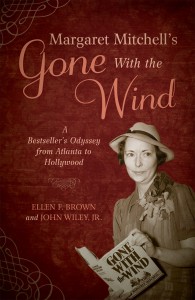 Giveaway is closed.
Would you like an email notification of other drawings? Sign up for our weekly digest in the sidebar.